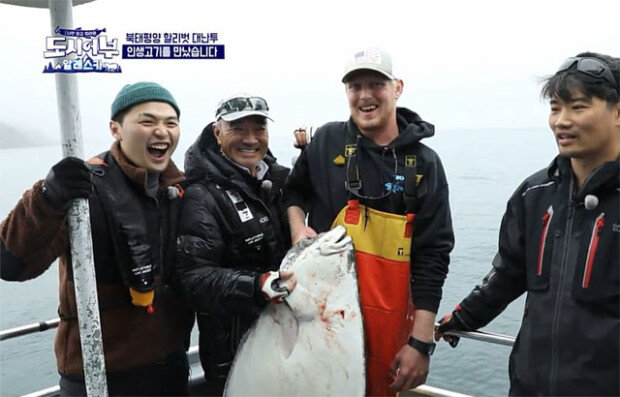 Fishing was a great success, and so was the program's viewership rating. Channel A's program "The Fishermen and the City" has hit its personal best viewership rating in an episode where cast members went fishing to Alaska.
According to Nielsen Korea, the program's latest episode that aired on Thursday recorded 5.3 percent viewership, the highest figure in seven months since Jan. 26 when the program's rating logged 5.2 percent. The program outperformed all other entertainment and educational programs in the same time slot.
Meanwhile, in Thursday's episode, the cast including Lee Deok-hwa, Lee Kyung-kyu, Microdot, and guest Jang Hyuk visited Homer, a small city of Alaska, and started fishing aboard. The result was more than successful, bringing joy to the cast who had failed to catch a single salmon in river last week. This time, the fish kept biting so frequently that they even had to set free an one meter long halibut because of a rule that restricts the number of fish with the size of 28 inches (around 70 centimeters) or larger people can catch to only one.
The fish constantly took the bite. Lee Deok-hwa caught a supersize halibut with the length of 136 centimeters and the weight of 30 kilograms. "Here it is," Lee said, feeling something heavy beneath his fishing rod and trying to lift the fish. Even a gun had to be used to calm the flopping halibut. Lee Kyung-kyu also caught a large octopus that weighed 12 kilograms.
"The Fishermen and the City" is an original variety program that combines fishing, entertainment, travel, and eating activities, and is aired at 11 p.m. every Thursday.
Kyu-Jin Shin newjin@donga.com