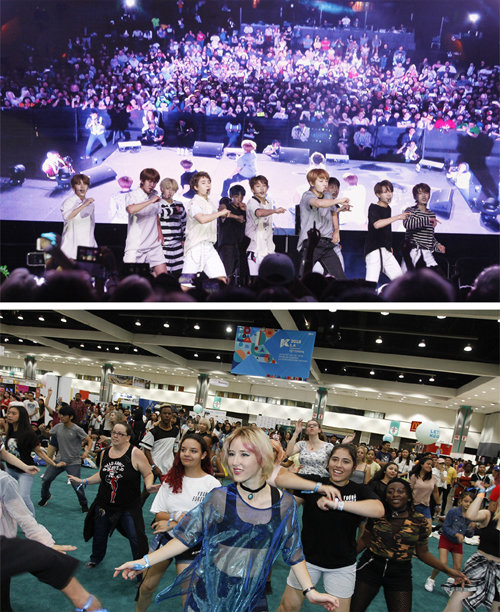 At a KCON event in Los Angeles on Sunday (local time), TWICE, a South Korean girl group, began to dance, with the camera randomly capturing the face of a female audience. A member of TWICE and the girl caught in the screen started dancing to TWICE's hit "Cheer Up" in sync, and roars erupted everywhere in the LA Staples Center.
The KCON 2018 LA, which is scheduled to run for three days from last Saturday, has gathered as many as 94,000 fans, an all-time high for the event. The 25,000 reservation seats were sold out in less than an hour. Hosted by CJ ENM, the KCON events are the largest K-Pop event in the world, offering a glimpse into various aspects of Korean culture including cosmetics, fashion, and food.
First launched in Irvine, California in 2012, the KCON event has expanded its territory into the Americas, Europe, and the Middle East, presenting some 728,000 people with a chance to experience Korean Wave in person. "The KCON has grown into a global Korean Wave festival, and naturally, Korean culture has become a trendy culture among American youths," said Shin Hyung-kwan, musical content division chief at CJ ENM.
The event also serves as a venue for smaller businesses with limited access to the U.S. market to promote their products to potential customers abroad. This year, 78 small-and medium-sized companies were invited to the event in Los Angeles, enjoying the opportunity to advertise their brand, participate in an export fair and interact with local buyers.
"The popularity of Korean Wave is so great that foreign customers are placing more trust in Korean brands," explained an official from a female products company taking part in the K-Pop event. "Through the KCON, we are expecting to boost our brand awareness significantly."
rocku@donga.com