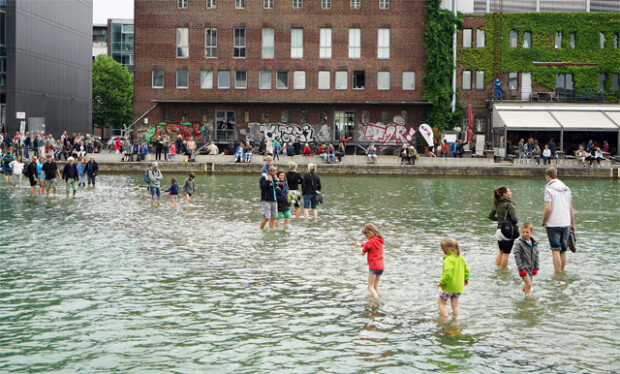 Is invisible public art possible? Public art refers to publicly owned artworks installed in public. It is art with the concept of public interest that should take into consideration the environment where it is installed and the masses that will consume it. In Münster, Germany in 2017, a unique public artwork was installed that was invisible but attracted great public fervor. It is Turkish artist Ayşe Erkmen's artwork titled "On Water."
The artwork was created for Skulptur Projekte Münster 2017. The event is a world-class public art exhibition held every 10 years. It is an art festival open to anyone, as it is held in public places and thus charges no admission fees. Erkmen, who was invited to the 2017 event, installed a steel bridge in the water of a canal in southeastern Münster. It was just a bridge under water but people swarmed to cross it, feeling as if experiencing the miracle of the Red Sea's parting in Exodus. In fact, the port area where the artwork was set up had long been divided by the canal and a backward place with a cluster of factories and warehouses. While the area north of the canal had emerged as a hot place in the city with trendy restaurants and cafés mushrooming, the southern area had remained an industrial zone. The artist's installation of the underwater bridge re-connected the urban space divided by the canal.
"On Water" is a public artwork that is not directly visible. We can only see people enjoying crossing the invisible bridge. In that respect, it can be said that the artist created a sort of stage on which the viewers become performers. People were enthusiastic about the artwork probably because it won the public's sympathy and communicated with them with the norm-breaking concept that turned an artwork into an object for experiences and enjoyment, rather than one of appreciation.