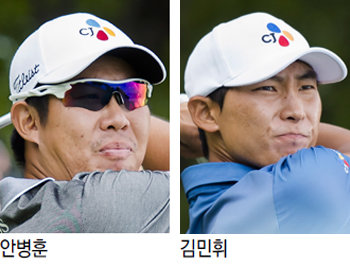 It was a game that proved that the championship was getting nearer within reach. Korean male golfers Ahn Byung-hoon (27) and Kim Min-hwi (26) tied in second place in their first bid to win a PGA championship. In the RBC Canadian Open held at Glen Abbey Golf Club, Oakville in Ontario, Canada, the two Korean golfers finished the race in the second place at 20-under 278. This is the first time that two Korean golfers have finished a PGA tour in second place together.
Despite falling short of hoisting a championship trophy, Ahn and Kim boasted world-class form, raising expectations for their future performance. Dustin Johnson, (34·United States) the top-ranked male golfer, won the trophy, finishing at 23-under 265.
It was an invaluable experience earned in the last day of the competition for the Korean players. "So many people watched the game. It felt as if they all came to see me. It was a true pleasure to play and watch the game together with the world's top ranker," Ahn Byung-hoon said about his experience of rubbing shoulders with Dustin Johnson.
"I made some mistakes early in the game, so I had a difficult time cutting the number of strokes later on," said Kim Min-hwi after the game. "But I focused on my game after it was resumed, which led to a good result." The two men earned 545,600 U.S. dollars in prize money, bumping their money rankings up from 50th to 34th for Ahn and from 76th to 50th for Kim.
Having won his third title this season, Dustin Johnson has become the first male golfer to have won three championships for three consecutive years in PGA tours, since Tiger Woods (43·United States), who set the milestone first between 2005 and 2009.
Hong-Gu Kang windup@donga.com