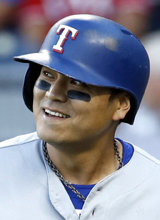 Choo Shin-soo of the Texas Rangers, the "Choo Choo Train," has set the longest on-base streak record in the history of Major League Baseball (MLB).
At the game with the Boston Red Sox on Tuesday (local time), Choo Shin-soo extended his on-base streak to 48 games by acquiring three bases on balls. Choo Shin-soo set Rangers' franchise on-base record by tying with Joey Votto (2015), who used to be in the same team as Choo Shin-soo when he was in Cincinnati Reds, and Albert Pujol (2001) of the Los Angeles Angels. In recent years, the only people who succeeded in extending one-base streak to 48 games were Choo Shin-soo, Votto and Pujol. This record marked 6th place in the history of extended on-base streak in the 21st century American League.
Choo Shin-soo also celebrated being selected as an All-Star for the first time in his life on Monday. Along with the "honor" of participating at the All-Star games as the first Koran Major League baseball player, he will also receive 100,000-dollar bonus thanks to a provision included in a large-scale free agreement (FA) of seven years with the Texas Rangers in 2013.
The Korean baseball player who broke Ichiro Suzuki's longest on-base streak at 43 games in Asia, not to mention the longest extended streak at 46 games for a single season within the Texas Rangers. The longest on-base extended games in history goes to Ted Williams (1949) at 84 games, while the second and third places go to Joe DiMaggio (1941) and Williams (1941) at 74 games and 69 games, respectively.
Bo-Mi Im bom@donga.com