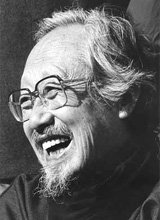 A pastor, and an activist engaged in South Korea's democracy and reunification movements are the titles given to Neutbom Rev. Mook Ik-hwan (1918-1994). Yet, there is one more title that should not be left out in describing Moon: a poet. To celebrate the 100th anniversary of the birth of Moon Ik-hwan, June 1, a book has been published comprised of 70 poems written by Moon, including "A day that feels new," "A heart that wishes for dreams" and "Two skies, one sky," which had been released in books, newspapers and magazines. These poems serve as a mirror to the life of Moon.
As a close friend of poet Yun Dong-ju, Moon expresses his sadness and affection towards the friend who passed away at a young age of 29 in a poem "Dongju." "If even you get older, whom should young petals on earth / look up to when fighting devotedly…You can be living in our blood as an ageless youth."
Aspects as an ordinary son and breadwinner are also seen in his poems. Moon says "How can these tears ever freeze / welling up in thinking of you" ("Mother 4"), and also thanks his wife and children for giving him additions to his life, more precious than his own life ("Addition").
During his 76-year life, Moon had to spend 11 years and two months in prison on six different occasions. What made him endure the hardships was a strong belief. "When you look at me and rising stars at an early dawn / your eyes will shine bright" ("You are always behind me"). The poet was not afraid of practicing his belief in life, and always maintained warmhearted affection towards people. Traces of the poet who led a passionate life, living up to the demands of the time, have been distilled into poems.
Hyo-Lim Son aryssong@donga.com