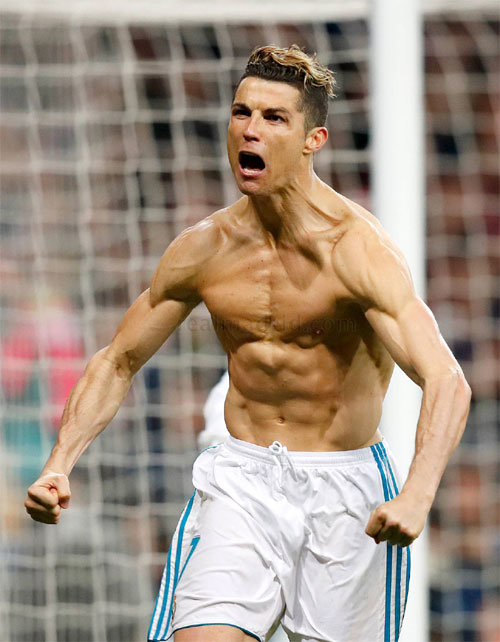 After converting the spot kick, Christina Ronaldo, the 33-year-old forward of Real Madrid, stripped off his jersey and ran towards the stand. The Portuguese roared, flexing his torso like the Hulk. He was shown a yellow card after the ceremony, but he did not mind. His last kick of the game sent his team Real Madrid advancing to the semifinals of the UEFA Champions League.
The Madrid-based football club was lost to Juventus 1-3 at home on Thursday in the second quarterfinal match for the 2017-2018 UEFA Champions League. Having won the first game 3-0, however, Madrid advanced to the next stage with an aggregate 4-3 win. The latest win allowed Madrid to continue on their quest for a third consecutive UEFA championship.
Juventus' dramatic comeback was possible thanks to a brace from Mario Manjukichi and another goal by Blaise Matuidi. The aggregate score stood at 3-3, and the two teams were getting ready for overtime. However, Lucas Vazquez, a Madrid forward, went down under a tough challenge from a defender and earned a penalty kick during the stoppage time.
The spot kick in the last minute of the game was Ronaldo's 120th goal netted in his 150th appearance in the UEFA Champions League. It also marked his 11th consecutive UEFA scoring, making him the most prolific scorer of the Champions League of this season with 15 goals. According to Opta Sports, a sports stats provider, Ronaldo is hogging the top three ranks as the best scorer of the UEFA Champions League per season. Having found 15 goals in 10 games, he is scoring 1.5 goals per game this season, and it is highly likely for the Portuguese to write a new chapter of football history by beating his own record at 17 goals.
Yun-Cheol Jeong trigger@donga.com