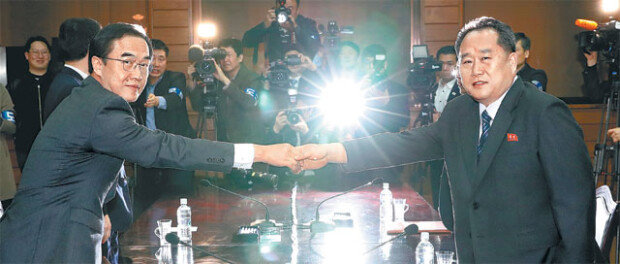 South Korean President Moon Jae-in and North Korean leader Kim Jong Un will have a summit on April 27 at the Peace House on the southern side of the border village of Panmunjom.
The two Koreas reached the agreement at high-level talks held on Thursday at the Tongilgak building on the northern side of Panmunjom. However, the two sides were not able to reach a conclusion on summit agendas. After adopting a joint communique, the South's Unification Minister Cho Myoung-gyon told a news briefing that the two sides had "sufficiently" exchanged views on summit agendas, including the denuclearization of the Korean Peninsula. "We agreed to continue to discuss the agenda issues through follow-up high-level talks in April, if necessary," he said.
The two Koreas are expected to meet at least three times before the planned summit, including additional high-level talks. Both sides agreed to hold working-level talks next Wednesday to discuss protocol, security and media relations issues regarding the summit at the southern side of Panmunjom.
Chinese State Councilor Yang Jiechi visited Seoul on Thursday as Chinese President Xi Jinping's special envoy. Yang met with Chung Eui-yong, chief security advisor to South Korean President Moon Jae-in, to brief him on the results of the North Korea-China summit earlier this week. The Chinese envoy said his country would be able to help resolve the Korean Peninsula issues through consultations for guarantee of the peninsula's denuclearization, peace and security, and politics.
journari@donga.com · weappon@donga.com