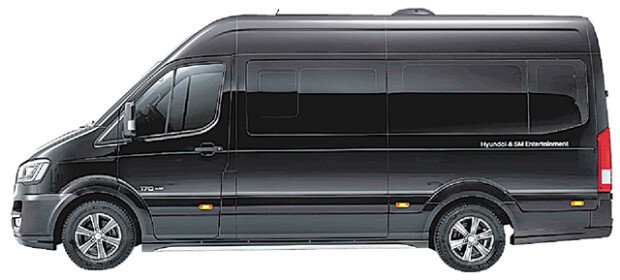 Hyundai Motor has unveiled its SOLATI Moving Hotel, a luxury car developed in collaboration with SM Entertainment that offers space where stars can rest comfortably and work.
The front part of the vehicle is designed as a make-up area that includes spaces for make-up tools, detachable mirrors and color balance adjustable lighting where stars can apply their makeup and dress their hair. The rear part consists of a closet capable of storing clothes and shoes as well as a dressing area. Passengers can also help themselves to snacks in the mini refrigerator.
Another attribute of the vehicle is the layout of the seats that enable comfort and relaxation. The seats decline 165 degrees, and passengers can rest as if they are lying on a bed. The lighting can be adjusted by color and illuminance, so that the interior changes according to the condition of the passengers.
SOLATI Moving Hotel will be delivered to SM Entertainment during the first half of this year. The fashion catalog, featuring Kai of idol group EXO and actress Lee Yeon-hee. will be released later this month.
Woo-Shin Han hanwshin@donga.com