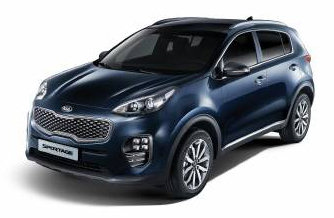 The global sales of Kia's mid-size SUV Sportage has broken the 5 million-mark in 25 years since it launched in 1993.
Kia Motors sold 5,003,537 units of the Sportage as of the end of last month in the global market including its home turf, South Korea, the company said. The Sportage has become the second model that achieved this milestone since Kia's subcompact car Pride exceeded the mark with its cumulative sales of 6.02 million units.
The Sportage is currently produced at plants in Korea, China and Slovakia. The SUV model has become the best-selling Kia in the world with its shipments recording 460,886 units last year. In 2016, its annual sales reached 575,520 units, setting a new record in the South Korean automaker's history.
The Sportage was first showcased at the 1991 Tokyo Motor Show before being launched in July 1993. The model is widely viewed as the first model that had introduced the concept of the urban SUV, which later helped give rise to Toyota's RAV4 and Honda's CR-V, industry watchers say. The Sportage has spanned four generations.
The Sportage's first and second generations had sold 557,668 units and 1,223,776 units, respectively. The third-generation model, launched in 2010, had established the model's identity with the signature tiger nose grille. The sales of the current fourth generation has totaled 1,036,947 units as of the end of February. Kia plans to release a face lifted Sportage with state-of-the art features in the latter half of this year, marking its 25 anniversary.
bjk@donga.com