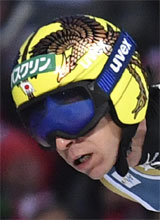 Noriaki Kasai, the 45-year-old ski jumper from Japan, has made no secret about his strong resolve. Kasai recently came in 21st place in men's normal hill at the Alpensia Ski Jumping Center in Pyeongchang. In an interview following the competition, the Japanese ski jumper stressed that Pyeongchang would not be the last Olympics venue for him, saying that he hopes to continue his career to Sapporo, which is pursuing a bid to host the 2026 Winter Olympics.
Being the oldest among all of the flag bearers at the opening ceremony, Kasai drew much attention from foreign media. Bloomberg noted that 47.8 percent of a total of 2,915 athletes participating in the PyeongChang Winter Olympics were born after Kasai's debut at the 1992 Winter Games in Albertville, France, 26 years ago.
There seems to be a special reason behind Kasai's choice of Sapporo as his retirement venue. In 1972, a year when he was born, the Winter Olympics was held in Sapporo, where Japanese ski jumpers swept all medals from gold to bronze in men's normal hill. Kasai now dreams of completing his Olympic journey and recreating the glorious moment in Sapporo.
If qualified for the 2026 Winter Olympics as he hopes, it will be the 10th edition of Winter Olympics Kasai participates. He already set a record for most appearances by an athlete at the Winter Olympics by competing at the PyeongChang Olympics, his eighth straight Winter Games. In remains to be seen whether the Japanese ski jumper will be able to break the world record of Ian Millar, Canadian equestrian, who has made appearances at the Summer Olympic Games 10 times.
Jae-Hyeng Kim monami@donga.com