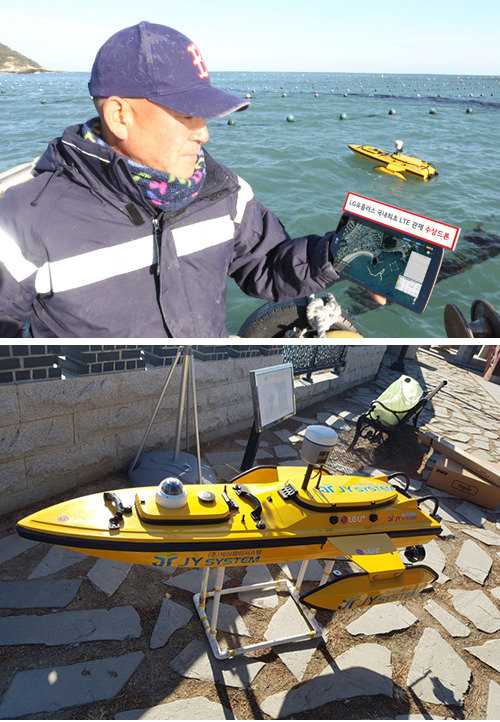 Unmanned aerials vehicles are playing the role of guarding ocean farms. Drones that were once used for river surveying are now deployed for monitoring sea farming.
LG Uplus, a South Korean telecommunications company, held an event Thursday on a Songjeong-ri beach in Haeundae, Busan, to unveil ocean monitoring drones that are equipped with the LTE control system for the first time in Korea. The ocean drone departed from a port at Songjeong-ri and flew several hundred meters away from the beach to a seaweed farm before embarking on a self-operation without human pilots.
About 1.4 meters in length, the boat-shaped water drone collected data near the farm such as water temperatures and levels of dissolved oxygen through ultrasonic waves and temperature sensors and sent the collected metrics to the control tower.
LG Uplus is planning to utilize LTE drones not only in fisheries but in other sectors including agriculture, transport, construction and water quality management.
The company's focus on drones is attributable to their significant potential. Teal Group, an American consulting company, predicts that the scale of global drone market will reach 11.5 billion U.S. dollars by 2023. PwC, a global accounting consulting service provider, put the economic value that drones will have yielded by 2020 at 127 billion dollars.
LG Uplus will start providing relevant services as early as March this year. Among such services, a comprehensive drone insurance will be also included.
"We aim to play a leading role in the platform market in three years through a B2B total service that offers customized drones, control and specialization solutions, as well as insurance and education services," said Park Joon-dong, chief of the Future Business Unit at LG Uplus.
Dong-Jin Shin shine@donga.com