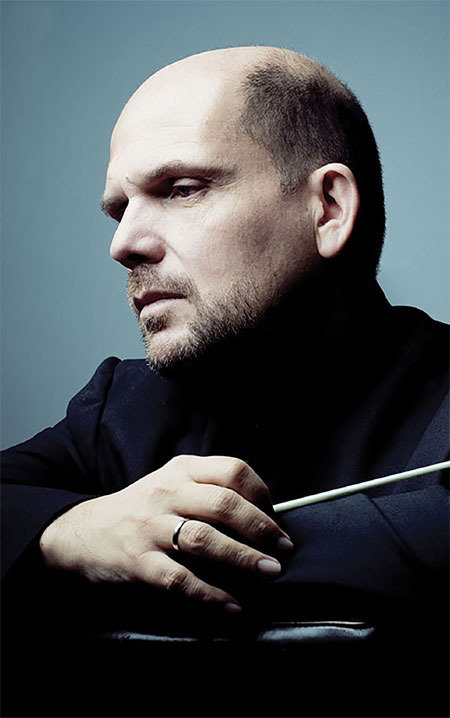 The Gyeonggi Philharmonic Orchestra starts its first season without former conductor Sung Shi-yeon with a "Virtuoso" series by inviting famed conductors from abroad. "While the Gyeonggi Philharmonic Orchestra had training with Sung for a long time, we've also taken time to create an opportunity for the orchestra to work together with various maestros this year," said Chung Jae-hoon, president of the Gyeonggi Arts Center, at a press meeting held in central Seoul on Tuesday.
Jaap van Zweden is a virtuoso who kicks off the series. Conducting the Dallas Symphony Orchestra in 2008, Van Zweden started directing the New York Philharmonic Orchestra from the 2017/18 season, and was officially appointed as its music director for the 2018/19 season. The Gyeonggi Philharmonic Orchestra with Van Zweden as conductor will perform Tchaikovsky's symphonies at the Seoul Arts Center on March 22 and the Aram Concert Hall of the Goyang Aram Nuri Arts Center on March 24. Violinists Choi Ye-eun and Kim Bom-sori will accompany the performance.
From May 3 to May 5, Israeli violinist Pinchas Zukerman will hold recitals with cellist Amanda Forsyth and pianist Angela Cheng, and perform with the Gyeonggi Philharmonic Orchestra.
Daniele Gatti, who has been leading the Royal Concertgebouw Orchestra (RCO) as chief conductor since 2016, will also appear on stage at the Gyeonggi Arts Center on Sept. 30 and at the Lotte Concert Hall on Oct. 1. Gatti and the RCO visited Korea last November and received critical acclaim for its performance of Mahler's symphonies. Pianist Lim Dong-hyek and violinist Cho Jin-joo will accompany this year's performance.
Russian conductor Valery Gergiev, director of the Mariinsky Theater in St. Petersburg as well as a pioneer for change in Russian culture and arts, will also put on a performance with the Munich Philharmonic. Pianist Sunwoo Ye-kwon will collaborate with the orchestra at a performance scheduled for Nov. 21 at the Seongnam Arts Center, Gyeonggi Province.
Min Kim kimmin@donga.com