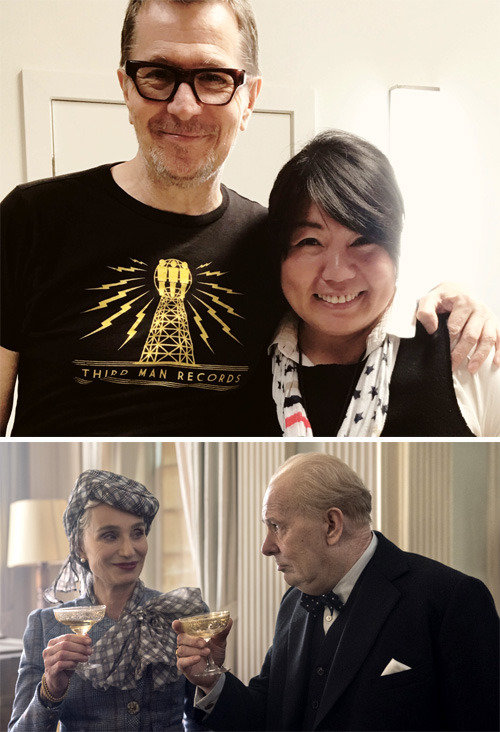 "Darkest Hour" will hit theaters across the country on Wednesday. Gary Oldman won this year's Golden Globe Award of Best Actor for his remarkable performance of Winston Churchill. Behind his transformation is Korean special makeup effects artist Vanessa Lee (49).
In Hollywood, Lee is already well known for her talents. Since her first project creating the werewolf special effects costume for the 2006 movie "Underworld: Evolution," she has participated in more than 100 movies to date. Her work includes the powerful red suit from the "Ironman" series and the superhero costumes in the "Avengers" series.
Lee, currently residing in the United States, said in an email interview with The Dong-A Ilbo on Sunday, "In the recent movie 'Darkest Hour,' I had to bring to life a real person, Winston Churchill, one hundred percent to the screen. I spent four to five times more time on research than I had on past projects."
Lee, having had polio as a child, still suffers its aftereffects in one leg. The reason why she left Korea in her mid-twenties was because finding a job was not easy in Korea. Despite the hardship she faced in the United States, she has become a "magician" who can bring to reality the costumes worn by Ironman or Spiderman that only existed in imagination.
Lee also worked on the costumes for "Inrang (Jin Roh)" directed by Kim Jee-woon, which will be released in theaters this year. This is the first time she has worked on Korean movie.
Despite having achieved much in Hollywood, Lee still has a final goal. She mentioned the "90th Academy Awards" to be held in March.
"Darkest Hour is on the shortlist for the Makeup category. The team has high hopes. When I first entered the movie industry, I thought of the Oscars as the highest honor," she said. "But now, I think a bit differently. I think I've achieved my goal if the costume I've created is providing a good support for actor's performance."
Sun-Hee Jang sun10@donga.com