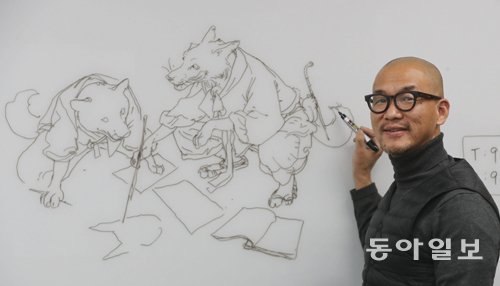 "My job? It covers cartoons, animation, illustration, entertainment and even modern painting."
Artist Kim Jeong-ki (43) smiled and slightly tilted his head when asked 'What exactly do you do?' Starting his career as a cartoonist, he is a "live-drawing" artist, which is yet unfamiliar in Korea.
Live-drawing is an impromptu drawing technique without a rough sketch. The reaction to Kim's performance videos on social media include "I can't believe what I'm seeing" and "It's almost like computer graphics."
Kim first attempted live-drawing at the 2011 Bucheon International Comics Festival. Covering the tent booth walls with paper, he drew onsite. Video footage went viral on social media and attracted attention overseas. The following year he was invited to international events such as the Strasbourg comic festival in France and Comic-Cons in the United States. Recently he was invited to speak at celebrated game and animation companies such as Marble and Pixar.
"The most difficult work was a performance about Japanese Military Sexual Slavery, so called 'Comfort Women.' I was anxious about misrepresenting and rejected the offer at first. It's much more difficult to draw something factual you don't know much about than to draw something from imagination," Kim said. "My favorite drawings are by American legendary illustrator Norman Rockwell (1894-1978) and painter Kim Yong-hwan (1912-1998) who drew the cartoon 'Kojooboo.' They are filled with not only hand gestures and poses, but also sundry accessories and furniture that fit the situation and atmosphere."
Kim has earned more than 300 million won since 2014 from selling drawings at places such as British auction house Christie's and exhibitions in Paris, France. There is a large market in France where drawing is recognized as its own art form. His illustrations that were done for French author Bernard Werber's novel "The Third Humanity" will be performed as "live cartoons" in the latter half of this year.
Yeun-Kyung Cho yunique@donga.com