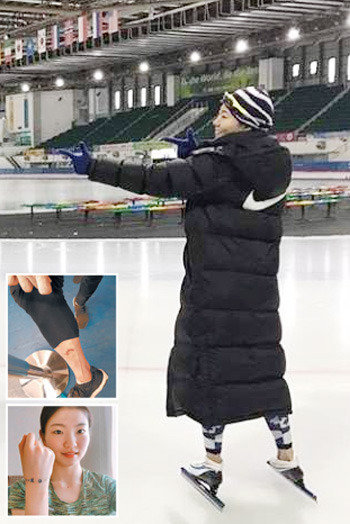 Speed skating and short track skaters of the South Korean national team, who aim to win gold medals in the upcoming PyeongChang Winter Olympics slated to be held in February next year, are concentrating on their training and performance with undivided attention, even on Christmas.
With the big day only 40 days ahead, this is a very crucial time for athletes not to loosen up but to stay focused. The host's national teams for speed skating and short track training at the national training centers in Taeneung, Seoul and Jincheon, North Chungcheong Province, respectively, will be skating on the ice, after taking a short break on Christmas Eve.
South Korea's speed skating empress Lee Sang-hwa, 28, finished second in the third and fourth race of the women's 500 meters in the International Skating Union World Cup Speed Skating with an Olympic-record time of 36 seconds. After returning home on Dec. 12, the two-time Olympic champion immediately headed to the national training center, with resolve to win a third straight Olympic gold.
Lee Seung-hoon, 29, a three-time Olympic medalist, who won a gold in the mass start in the first and fourth events of the men's race, will continue to make himself get ready for the game. The mass start is a new event in speed skating, where all skaters start simultaneously. Kim Bo-reum, a strong medal contender in the women's mass start, will spend Christmas holiday treating a back injury she suffered during the first race of the ISU World Cup and improving stamina.
The leading short track speed skater, Shim Seok-hee, who won two medals in Sochi, is strong-minded with a rubber bracelet on her wrist. She is wearing a friendship bracelet specially designed to remember and support "comfort women," Korean women forced into sexual slavery for Japanese troops, who are currently living together in the House of Sharing.
"Small hearts will make a big hope," a 20-year-old skater said, expressing her determination for the upcoming Olympic Games. She will be also speed skating on the ice, wearing her special Christmas gift on the wrist during holidays.
Jae-Yeong Yoo elegant@donga.com