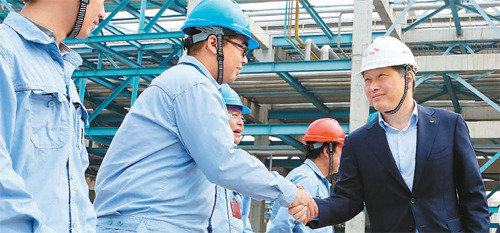 South Korean President Moon Jae-in proposed closer economic cooperation between his country and China during a bilateral business forum held in Beijing. While attention is being drawn to whether an upcoming summit between the leaders of the two neighboring countries will signal a thaw in the bilateral ties that have been soured over Seoul's deployment of the Terminal High Altitude Area Defense antimissile system, business projects being carried out by South Korea's two major conglomerates – SK and CJ – have been touted as successful examples.
At the forum, entrepreneurs from the two countries shared successful examples of bilateral economic cooperation and discussed ways for future cooperation. Cited as one of the successful examples was China-Korea Petrochemical, the joint venture formed by SK Global Chemical Co. and China Petroleum & Chemical Corp. (Sinopec), the largest petrochemical company in China. The joint venture, the SK Group's largest China project, raked in more than 1.3 trillion won (1.2 billion U.S. dollars) in operating profits between 2013 and 2016. The company also reported 530 billion won (485.1 million dollars) in profits before tax during the first nine months of this year, exceeding its annual earnings target of 410 billion won (375.3 million dollars). Last month, the joint venture announced a plan to reinvest 740 billion won (677.3 million dollars).
"The geographical, economic and cultural proximity between South Korea and China were the biggest factors for China-Korea Petrochemical's success," said Lee Jeong-hoon, who manages SK Global Chemical's investment in China. Among other success factors, he also cited the Sinopec top management's interest in the project and strong drive.
The CJ Group, which has various businesses in China, including food, bioengineering and entertainment, was also cited as an example. In particular, CJ Baiyu, a joint venture for tofu, is considered a representative case. The CJ Group is the leading tofu maker in Beijing, which has a reputation for its love of tofu. When the South Korean conglomerate launched the tofu business in China for the first time in 2007, it chose to set up a joint venture with Beijing Er Shang Group to establish distribution infrastructure. The combination of the Chinese company's distribution infrastructure and the Korean company's marketing and research capabilities has led to CJ Baiyu's success.
"The CJ Group considers China an important market to the extent that it has presence in the Chinese market for all of its four major business areas since it first entered China in 1994," said Park Keun-tae, president of CJ China. "We will continue to seek mutually beneficial ways by forming strategic partnerships with Chinese companies."
The CJ Group also provides membership services by joining hands with Chinese mobile payment services WeChat Pay and Alipay, while supplying Korean content to a video-sharing platform operated by major Chinese technology companies such as Tencent.
Eun-Taek Lee nabi@donga.com · Dong-Il Seo dong@donga.com