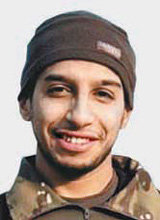 In the early morning hours of Wednesday (local time), Saint-Denis, outer northern Paris, saw gunfights between the police and the Paris terror attack suspects. The police were under an operation to arrest Islamic State member Abdel-Hamid Abu Oud who is known to be the mastermind behind the Paris terror attacks on last Friday. There were seven loud blasts, creating horror in the area. Abu Oud has been on the blacklist of Western intelligence services and was known to be in Syria.
The BBC reported quoting a police officer that the primary objective of the counter-terrorist operation that is taking place in Saint-Denis is to capture Abdel-Hamid Abu Oud who masterminded the Paris terror attacks, adding that details are yet to be confirmed.
During the gunfights, the three police officers were wounded and at least three were killed. Two of the three dead were terrorists; one was shot and killed by a police sniper and the other committed a suicide bombing. A civilian was killed while passing by the operation field, according to CNN.
Saint-Denis is where a suicide bombing occurred on last Friday in the soccer field "Stade de France." As the fear of the Paris terror attacks has proliferated, a friendly soccer match between the German and Dutch national teams was cancelled. The match was going to take place in Hannover, Germany on Tuesday evening, and German Chancellor Angela Merkel was scheduled to attend. Germany cancelled the match 91 minutes before the kick-off after obtaining detailed intelligence about a possible bomb attack targeting the Hannover HDI Stadium, which can accommodate 49,000 spectators. CNN reported that French authorities provided Germany with intelligence that an Iraqi sleeper cell was planning to attack Hannover.
raphy@donga.com