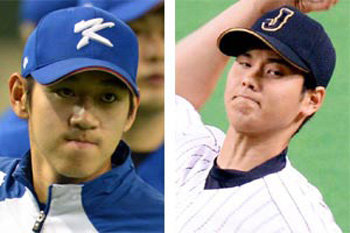 "Try with his first pitch. Fastball is coming."
Batters of the Korean national baseball team vowed to keep this in mind to not succumb again to Shohei Otani (21) of the Japanese national baseball team. This conclusion has been made through an analysis of data on their first showdowns with the Japanese pitcher. Moreover, Otani told Japanese media that he has no intention to significantly change his pitching pattern (from the opening game).
At the opening game of the World Baseball Softball Confederation (WBSC) Primer 12 at Sapporo Dome in Japan on November 8, Otani became the winning pitcher by allowing no point to Korea and only giving two hits and four walks during six innings. He displayed astonishing pitching by securing 10 strikeouts (47.6 percent) off 21 batters he faced off. Otani, who did not show up on the mound since the game, will play as the starting pitcher in the semifinal game against Korea, which will take place at Tokyo Dome on Thursday. The first match was a group league game, which Korea "could afford to lose," but the upcoming game is a do-or-die race towards the final.
To summarize Otani's pitching at the opening game, he "threatened batters with fastballs, before pitching fork balls to finish." Otani threw his first pitch with fastballs against 19 batters (90.5 percent). Six (60.6 percent) of the 10 pitches, however, that he garnered strikeouts were folk balls at a maximum speed of 147 km per hour. Considering that the fastest pitches Korea's starting pitcher Kim Kwang-hyun (27) threw in the game measured 149 km per hour, Otani's folk balls were almost like wonder pitches. Experts concur that it would be rather easier for Korean batters to try batting his fastballs to secure a hit even if these pitches exceed 160 km per hour.
"Otani throws quality pitches of fastballs, folk balls and even sliders. Korean batters need to narrow their swings to be able to cope with his pitches by focusing on swing timing for fastballs," KBS baseball commentator said. "He boasts powerful folk balls. Korea must minimize lost points by concentrating on trying not to miss out his careless pitches. Another point Korean batters seek to take advantage of is that Otani throws increasingly more sliders in latter innings," Sky Sports commentator Lee Hyo-bong said.
Korean batters should not feel afraid just because Otani pitched well at the opening game. "I have never seen him pitch as excellently as today," Lee Dae-ho, said after the first match. Lee posted a batting average of 0.380 (eight hits from 21 times at bat) against Otani for three years in the Japanese pro baseball. Otani also admitted that it would not be easy to display as good performance as in the opening game.
Even considering detailed records, Korea is in more favorable condition in the semifinal on Thursday than in the opening game. In games held on Thursday in this season, Otani recorded an ERA of 4.29, about double his ERA (2.24), while posting an ERA of 4.50 at Tokyo Dome, which was higher than his average.
Meanwhile, Korean team manager Kim In-shik picked Lee Dae-eun as the starting pitcher for the game against Japan. When he started the third inning at the preliminary group league against Venezuela last Thursday, Lee lost two points during five innings.