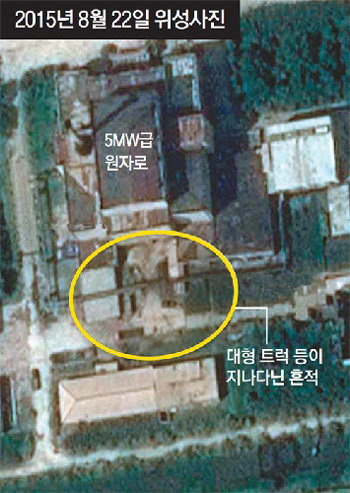 Satellite imagery suggests a high level of vehicle activity not previously observed at North Korea`s Yongbyon nuclear facilities in North Pyongan Province soon after the North`s artillery provocation on August 20, indicating the possibility of new plutonium production, according to a U.S. website specializing in North Korea. The analysis draws attention as there is a possibility that North Korea will make additional provocations, including a missile launch, to mark the ruling Workers` Party of Korea`s founding anniversary that falls on October 10.
An analysis of commercial satellite imagery taken on August 22 indicates vehicular tracks in front of the 5 5 megawatt-electric (MWe) reactor hall in the Yongbyon nuclear facilities, said William Mugford, an analyst at 38 North, a research website run by the U.S.-Korea Institute at Johns Hopkins School of Advanced International Studies. "Vehicle tracks extend into the ground level of the building beneath an overhanging four-story annex on the east end of the reactor hall out to a road where large trucks can easily maneuver," Mugford wrote in an article published on Tuesday. "Also, a large truck is seen in position apparently awaiting a load."
The 5 MWe reactors at the Yongbyon complex is the North`s representative nuclear facility capable of producing weapons-grade plutonium.
"The same imagery shows significant vehicular activity at the Radiochemical Laboratory complex where plutonium is chemically separated from uranium and other radioactive materials as well as converted into metal form, the raw material for building nuclear weapons," the analyst wrote. "Heavy vehicle tracks from the road enter the facility, circle a support building and then extend to the spent fuel receiving building at the southwest end of the 190-meter long reprocessing plant."
He noted that there were a number of vehicles and piles of unidentified material at the spent fuel facility, adding that additional analyses are needed to identify what the material is.
Mugford said there are a number of possible explanations: an ongoing program to modernize and upgrade the Yongbyon facility; maintenance or renovation activities for aging reactor facilities; and preparations for unloading spent fuel rods from the reactor for the purpose of producing new plutonium.
"If (the third) explanation proves to be true, it would represent an important step towards the further development of North Korea's nuclear weapons stockpile," he said.
Earlier, 38 North reported that July 2 satellite imagery showed ongoing construction of a building that may be used to assemble or store high explosive components of a nuclear weapon, raising the possibility that the North was preparing to build high explosive equipment necessary to make smaller nuclear weapons.
ddr@donga.com