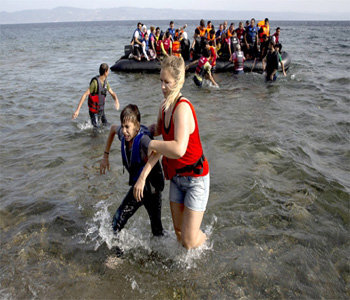 The death of three-year-old Aylan Kurdi, who drowned along with his brother, Galip, and mother, Rehana, has drawn worldwide attention to the Syrian refugee crisis. The father returned Thursday to his hometown of Kobane in Syria to bury his family and then went to visit one of his relatives the next day. Kurdi remained silent to relatives' consolation, and stroke his nephew's head as the young boy was about the same age as Aylan.
Kurdi was a barber in the Syrian capital Damascus before his family collapsed in 2011. The Arab Spring spread to a civil war and the government military arrested civilians at random. Kurdi himself was severely tortured for five months, and finally left work and home and chose a refugee life. He and his family passed Aleppo and arrived in Kobane, a place nearby Syria`s border with Turkey.
Aylan who has turned refugee issue into global spotlight was born in Kobane. However, Kobane wasn't a good place to live. The Sunni militant group ISIS, known for its brutal tactics, was in full swing there and it was hell. Kurdi's family crossed the Turkish border in 2013, and met with tragedy while attempting to cross the Aegean Sea to traverse Greece to settle down in Europe.
Many other Syrian refugees have attempted escape by risking life. The U.K. daily Guardian on Sunday released a story of refugees from Syria stuck in limbo at stopover at Budapest`s Keleti station in Hungary.
Mary Al-Aboud was teaching English at an elementary school in the Syrian city of Deir Ezzor and lost her husband on bombing two months ago, taking her four children on a refuge. The biggest threat was hunger. During the past several days the children were just able to eat some bread and a little fish. The mother has been wandering around to find food. "My five-year-old son had his eardrum split due to the bombing but I haven't been able to take him to hospital yet," the mother said.
Golezar Sidour, who left the Syrian city of Aleppo and is five months` pregnant, lost her elder son who hit by bomb fragments. She then decided to escape with her husband, a taxi driver. Saying she walked for seven straight hours, she said, "Winter is coming, and the children will be sick," as part of their travelling group scuffled to secure one of a few bananas being handed out.
Majd Haaj Hassan had six houses and 1,000 hectares of land with olive trees in the northwestern province of Idlib. The two specific triggers for their departure were a battle between Jabhat al-Nusra and Isis, and a drawing made by his six-year-old niece depicting tanks, bombs and soldiers.
Hussain Behbudi who is a refugee with a four-year-old daughter said escalating from Taliban`s violence convinced him that risking everything to leave was better, adding, as they will be treated as second-class citizens in Germany, he knows they are demons that could still shadow his children's lives. Haji Ahmed Yousef who became disabled due to bomb terror depended on crutches to go from Mosul to Turkey and then to Hungary.
Lucky Syrian refugees are touching German land. AP said Monday that a flock of people gathered in Munich to welcome refugees who came here after thousands of kilometers. The European Commission will announce Wednesday a refugee share plan, and Germany is known to be embracing 31,443 refugees, the biggest number. However the Wall Street Journal said there are quiet but massive opposition movements against Chancellor Angela Merkel's refugee host measures.
snow@donga.com