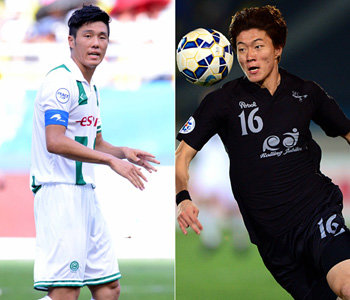 "Secure a win at home turf!"
This is the slogan that the national soccer team led by coach Uli Stielike is promoting for the home match against Laos, the second qualifying match for the Asian region of the 2018 World Cup Russia, which will take place on September 3. Team Korea won the East Asian Cup championship recently, but failed to completely address the remaining agenda of the need to secure scoring capacity (three goals in three matches). For this reason, Coach Stielike, who have been paying a close watch on strikers in European leagues and the K-League, have recruited 'new faces' that he did not deploy at A-matches previously.
Stielike added strikers Seok Hyeon-joon (24, Vitoria), and Hwang Ui-jo (23, Seongnam) to the national team roster that will play at the matches against Laos and Lebanon (September 8), and which was announced on Monday. Seok has joined the national team for the first time in five years since 2010, when the national team was led by coach Cho Kwang-rae, while Hwang Ui-jo has gotten on board after December last year, when he made the preliminary roster of Team Korea for the Asian Cup.
Stielike said, "Now that the national team's basic frame has been completed, it is good timing to test new strikers. I expect the two players will shore up the national team's scoring capacity." However, in order for the two to be able to actually play on the ground, they must win competition to become key players with Lee Jeong-hyeop (24), dubbed 'Stielike's prince.'
Seok who has good physique (190 cm tall, 83 kg) emerged as a promising player when he joined Ajax, a prestigious Dutch pro soccer team, in 2010 at age 19. However, he has suffered slump, moved to various teams, and has not been invited to join the national team. After joining Vitoria (Portugal) in January this year, Seok scored six goals during the 2014-2015 season, and successfully made a comeback to rejoin the national team. Hwang, who has no A-match experience, scored 10 goals at this season's K-League Classic, and has demonstrated his robust scoring capability. Stielike said, "The problem with Hwang was that he was unstable in performance during plays in the past, and I have recruited him because he has continuously displayed impressive performance in recent months."
The recruitment of the two strikes with scoring capacity is also linked with performing capability of Korean players active in European leagues, who are in a slump. Thus far, the national team has been using tactic in which two second line strikers penetrate space that Lee Jeong-hyeop has created by moving through the opponent team's defense, and sought to score a goal. However, as second line strikers Lee Chung-yong (27, Crystal Palace) and Ku Ja-cheol (26, Mainz) from European leagues, who are the national team's main pillars, have had fewer chances to play in their teams in recent months, they have seen their playing capacity deteriorate. Stielike recruited them all to the national team, saying, "I have trust in their capabilities," but has urged them to renew commitment and redouble efforts by comparing them to younger players from the K-League.
"Kwon Chang-hoon (21, Suwon), and Lee Jae-seong (23, Jeonbuk) made progress through the Asian Cup. They have become players that are threatening to the opponents not only in the national team but also in their respective teams," Coach Stielike said. "I hope that players from the European leagues whose performance has waned consider the national team as their 'home' and use it as an opportunity to make progress."
Meanwhile, goalie Kim Dong-joon (21, Yonsei University) has become the only player to join the national team as a college student. It is the first time that a college team member has made the national roster in five years and seven months since January 2010.
trigger@donga.com