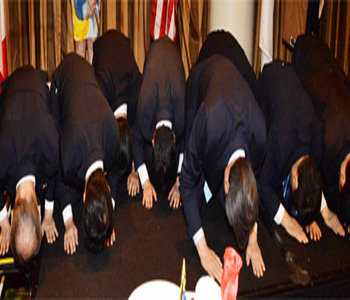 The first message conveyed by ruling Saenuri Party Chairman Kim Moo-sung, who is on a 10-day visit to the U.S., was "memories and gratitude to Korean War veterans."
As the first event after arriving in Washington on Sunday morning, Kim visited veterans' village where some 120 Korean War veterans live. "I thought that it is my responsibility to meet you before anything after I arrive in the U.S.," Kim said. "Veterans, who rushed to a small Asian country that you never even knew the name, location and history, you are the saviors of the Republic of Korea." The move was in line with his pledge that "I will conduct party diplomacy that will reaffirm and solidify friendship with the U.S., our eternal ally."
At the following reception, Kim, along with fellow party members, took a deep bow to some 400 veterans and their families. "Korea has tradition of taking a deep bow to senior citizens that we respect," said Kim. "We are deeply touched," said Larry Kinard, president of the Korean War Veterans Association, while other war veterans had a standing ovation.
After the Saenuri leader had a luncheon with Korean Ambassador to the U.S. Ahn Ho-young, he told a press conference, "The U.S. is an unparalleled alliance that is never replaceable." Kim will offer flowers at the Korean War Memorial and the Arlington National Cemetery on Monday, as he continues the itinerary of his visit meant to "cement alliance."
Through his U.S. visit, Kim is making his debut in Korea-U.S. diplomacy. Since a meeting with U.N. Secretary-General Ban Ki-moon is also being coordinated, analysts say, "The visit may be part of his moves for his presidential bid." However, meetings with U.S. political heavyweights, such as Vice President Joe Biden and Secretary of State John Kerry, are reportedly difficult to set up.
coolup@donga.com