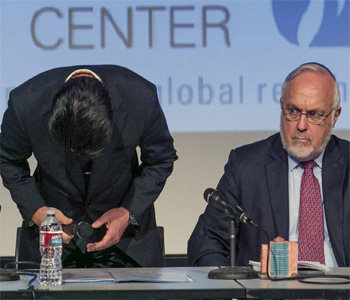 Mitsubishi Materials, a Japanese conglomerate, apologized to U.S. prisoners of war who were forced to labor during the Second World War for the first time among Japanese companies. However, the company failed to make an apology to Korean victims of forced labor.
A delegation of Mitsubishi Materials led by Hikaru Kimura, vice president of the company, held a special event for American victims of forced labor and their family members at Simon Wiesenthal Center, an American Jewish human rights organization in Los Angeles on Sunday. At the event, Kimura offered words of apology and bowed his head to James Murphy, 94, who was the only person among the American victims to attend the event.
"We sincerely apologize to prisoners of war and their relatives including Mr. Murphy," Kimura said. "We feel ethical responsibility to the U.S. and will never take such a path again in the future." In 2009 and 2010, the Japanese government apologized over the issue of U.S. POWs, but it is the first time that a Japanese company that used foreigners like slaves at mines and factories to make an apology.
Murphy, who was caught by the Japanese military in the Philippines in 1944, was forced to labor at copper mine in Japan for one year. On his life as POW, he said, "It was truly the life of slaves in which we were never provided any foods, medicine, clothing and hygiene." He said "I have been waiting for today for the past 70 years. There was no financial compensation from Mitsubishi in its apology, but I think they have sincerity in the apology. The fact I accepted Mitsubishi's apology will help resolve issues from long past," before having reconciliatory hand-shaking with Kimura. Currently, two people among the Americans who were forced to labor at Mitsubishi are surviving, and Murphy was the only one to attend the event on the day. Rabbi Abraham Cooper, who organized the event, said, "Today is a historic day," and urged that "Other Japanese companies also join in the campaign to apologize for the past."
According to the Associated Press, more than 12,000 American POWs were taken to Japan during the Second World War, and was forced to labor at more than 50 worksites that were owned by the Japanese government or companies, and 1,100 of them died on the ground. Notably, Mitsubishi that ran four mines mobilized 876 American POWs to forced labor, and 27 percent of them died, the New York Times reported on Sunday.
Watchers say that Mitsubishi's apology is meant to create amicable environment in the U.S. ahead of Japanese Prime Minister's statement on the 70th anniversary of the end of the war. The Associated Press said, "Prime Minister Abe, who pushed to enact the bill on Japan's self-defense right despite opposition by the public and opposition party, seems to be trying to compile and cover up its atrocities at war in order to recover Japan's military might that weakened after the war." The Japanese Embassy in the U.S. said "The apology results from Mitsubishi's independent decision, and the Japanese government did not interfere."
However, Mitsubishi failed to make apology to victims of forced labor from Korea and China. On this issue, Kimura said, "We can also consider a measure to apologize to forced laborers from other countries, and I did not have any special intention when I chose not to mention Korean victims of forced labor."
After the event, when asked by reporters 'whether his company has any plan to apologize to Korea and China, Kimura said, "Since there is a lawsuit that is underway regarding forced laborers during the Second World War, I would rather not publicize my view," in repeating its past stance on the issue.
aimhigh@donga.com