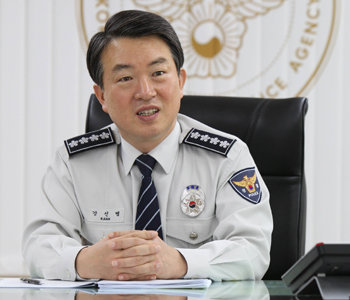 "I thought this is the right time to return the favor we've received from the public," said National Police Agency Commissioner General Kang Shin-myung when asked why the police have decided to participate in the campaign "Revive economy by my hands: Summer vacation in Korea," which was launched by the Dong-A Ilbo and five economic organizations. Kang said, "After outbreak of Middle East Respiratory Syndrome (MERS), areas adjacent to the National Police Agency, which has been full of tour buses for Chinese tourism, are now empty. The police sought a way to help revive the domestic economy affected by MERS."
"I mulled over the move for several days and ordered to send an official document after I read an article of the June 25 edition of the Dong-A Ilbo," said Kang. In the article on the page A1 on Thursday, the Dong-A Ilbo proposed several ways to revive the depressed domestic economy, which included having a summer vacation in Korea.
The campaign to have a summer vacation in Korea is not mandatory to policemen. The police agency plans to find practical ways to promote the campaign and create an atmosphere in which policemen can enjoy summer vacations in Korea. "Many ways are considered such as holding a contest of travel journals in Korea or giving a day off to policemen who change the summer vacation destination from foreign countries to Korea," said the commissioner general.
Kang plans to have a summer vacation in Korea in mid-August. "As there are many good tourist attractions in Korea, I hope citizens to enjoy travel in Korea first before traveling to foreign countries," said Kang.
jmpark@donga.com