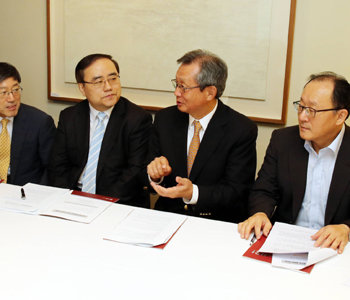 A United Nations human rights office to be set up in Seoul today will likely provide a new momentum for efforts to improve the dire human rights situation in North Korea, a diplomatic expert said Monday.
Kim Sung-han, director of the Ilmin International Relations Institute and a former vice minister of South Korea, told a forum in Seoul that the U.N. office has produced a game change effect that upgraded the North Korea human rights issue that has been sidelined by Pyongyang`s nuclear and military provocations to an international diplomatic agenda. The forum was hosted jointly by the institute and the Dong-A Ilbo.
"We have entered into a stage where we should take a step further from urging the North to improve its human rights situation to taking legally binding actions in order to correct (the North`s) human rights violations," said Yoo Ho-yeol, a professor of North Korean studies at Korea University and chairman of the political, legal and systemic subcommittee of Seoul`s Presidential Committee for Unification Preparation.
Lee Sang-hyun, director of the Security Studies Program at the Sejong Institute, noted, "South Korea has become a full-fledged interested party in the North Korean human rights issue, backed by the credibility of an international body. This point will be a burden on North Korea." Koo Bon-hak, a Hallym University professor, said the opening of the U.N. office in Seoul means that human rights is not the North`s "special" issue but a universal one, granting legitimacy to calls for the international community`s intervention.
Some experts raised concern over South Korea`s leading the North Korean human rights issue at a time when Seoul is under security threats from Pyongyang. Choi Young-jin, a former South Korean ambassador to the United States, called for a division of roles under which Western countries take the leadership in the North Korean human rights issue, while South Korea takes the initiative in security cooperation and exchanges with the North. Han Ki-heung, an editorial writer at the Dong-A Ilbo, stressed the importance of a "skillful political sense" for overcoming the dilemma in which when the South raises the North Korean human rights issue, Pyongyang closes its door and freezes the inter-Korean relations.
zeitung@donga.com