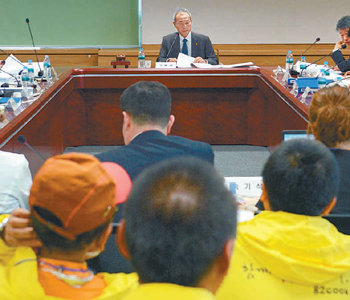 It has been confirmed that the Korean government is to present around 110 billion won (approx. 100.54 million U.S. dollars) as the price cap for the international bidding (estimated bidding price) to select a salvage company of the sunken ferry Sewol. If foreign and domestic companies form a consortium, additional points will be given. Material damages or human injuries that may occur during the ship-lifting process will be solely burdened by the winning contractor.
Korea's Ministry of Oceans and Fisheries (MOF) said on Thursday that the tender will open on Friday for a salvage contractor of the sunken Sewol ferry. The selection process will be finalized in July. According to the ministry, the government has internally decided over the bidding price cap around 110 billion won. Although some estimate that the cost would be higher than 200 billion won (approx. 182.8 million dollars) depending on the operation circumstances such as whether the government plans to minimize the cost.
The government puts more priority on technology, than the bidding price, while selecting the contractor to raise the ferry. However, as the technical report on salvage of the ferry was disclosed to the public and little gap exists in technical capability among the tenders, price competitiveness may become a critical factor.
The internationally-recognized way to select a salvage company is: △to appropriate a lump-sum amount of money for salvage expenses regardless of the period, △to calculate the expenses on a daily bases, and △to settle the expenses at certain intervals. As the latter two ways may increase the cost depending on the length of time, the government plans to choose the first way to save expenses. If the contractor fails to raise the vessel, the Korean government only pays the actual expenses spent for salvage.
Preferred bidders will be selected in the order of high scores, combining technical evaluation score (80%) and price evaluation score (20%). In the technical evaluation, a critical evaluation factor is how to lift the entire ship intact not to miss bodies in the ship. If a bidder has 68 points or below when converting the technical score into a scale of 100, the bidder is eliminated automatically. All the damages that may occur during the salvage process will be covered by the contractor.
So far, American salvage firm Titan and Dutch firm SMIT and Svitzer are showing interest in the bidding. The government plans to allow a single foreign company to participate in the bidding but will give additional points to a consortium between foreign and domestic companies, as an effort to curb controversy over drainage of national wealth. The additional points will vary depending on the domestic firm's ratio in the consortium. Some foreign salvage firms reportedly started searching for partners in Korea.
jikim@donga.com