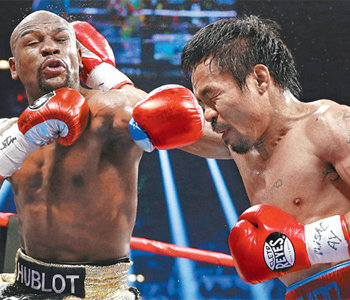 The boxing ring that was shined with spotlight has become left with emptiness. Boxing fans who had counted their fingers to watch the big match of the century looked dispirited. An astronomical amount of money of 250 million U.S. dollars was at stake and yet the match ended in disappointment. "It seems that not a single jab and punch is worth of being edited for match highlights," said Korean broadcasters.
At the WBC•WBA•WBO welterweight champion on Saturday at MGM Grand Hotel in Las Vegas, Floyd Mayweather defeated Manny Pacquiao 116-112 on two cards and 118-110 on the other. Mayweather stretched his record to 48-0 (26 KOs), a single win gap with Rocky Marciano with 49-0. Pacquiao won 57 (38 KOs), lost 6 and drew 2.
Pacquiao was expected to go on the offensive in the beginning for knockouts but spared himself. At the fourth round, Pacquiao went hard at Mayweather's face with whaling but stepped back immediately. From there, he failed to confront against Mayweather's fact feet with his punch throwing in the air. Even after the round 10, he didn't take the risk. "Mayweather can be unexpectedly offensive from the very beginning," predicted Freddy Roach, Pacquiao's trainer, working out the strategy to induce the opponent to the match. As Mayweather outboxed Pacquiao with his style, however, Roach's plan foundered.
Mayweather's victory was not fully satisfactory as well since he was explicitly defensive. His "shoulder roll technique" to block opponent's punches and landing a hard straight right hand were merely what he showed. The Associated Press said that Mayweather was busy running away all the time, having a low center of gravity. At the end of Round 12 when Mayweather raised his right hand as if to be sure of his victory, spectators booed at him. It was not a clear-cut victory to the point where Pacquiao said "I was very surprised at the scores."
"The volume of punches for Pacquiao was 429, which is a lot lower than the 600-700 he usually throws in a fight," reported Canada's CBC Sports, pointing out that he is also responsible for unexpectedly unsatisfactory match. Mike Tyson with "nuclear fish", a heavyweight champion tweeted his disappointment by saying that people had waited five years for the match.
Despite the unsatisfactory match, Mayweather pocketed 150 million dollars for his victory while Pacquiao earned 100 million dollars. Mayweather also won the title belt encrusted with gold and emeralds that the World Boxing Council specially prepared for the match at the cost of 1 million dollars. The AP reported that the winner threw 435 punches, which translates that his every single punch brings him some 370 million won.
The Philippines, home country of Pacquiao who lost at the match, was grief-stricken. Having expected that most of 170 million population would watch the match on the TV, local media was concerned about the supply of electrify but, afterward, simply reported Pacquiao's defeat.
elegant@donga.com