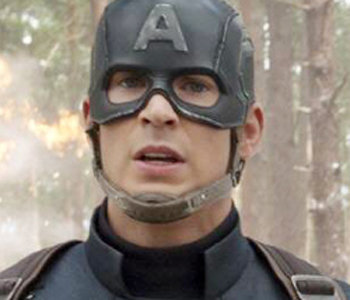 "What happened to Captain America who told us to use polite words?"
Chris Evans, who plays the title role of Captain America in the movie "Avengers: Age of Ultron" which is a huge box-office hit in Korea, is in trouble after making a series of sexual harassment remarks.
According to a recently released video containing an interview by a Chinese media, Evans told a female reporter that her Avengers nail art was pretty. That was ok but the problem arose when he joked "You can do enjoyable things with this finger" by pointing at the character painted on her middle finger. Middle finger gesture tends to carry sexual connotation in Western countries. In another interview video released on April 22, Evans appeared with Hawkeye Jeremy Renner and called Scarlett Johansson's Avengers character a "slut" and "whore." He later apologized for making ill-advised remarks.
The videos fast spread online in Korea where fans posted messages like "This is too much to call it a joke," and "He said he`s a shy guy but seems to have double characters. I`m disappointed." In the movie, Captain America is described as a straight and narrow man who is often teased at for being too prim and proper. There is even a scene where he warns Iron Man (Robert Downey Jr.) making swear words to speak polite words.
iamsam@donga.com