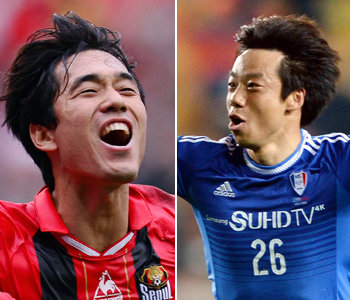 The Suwon Samsung Bluewings had blocked with large cloth the spectator stand on the second floor at Suwon World Cup Stadium, ahead of the opening of this season. The measure was taken to hide empty seats, increasing the value of seats. The stadium's seating capacity, which was 44,000 until last year, was thus reduced to 18,000 this year. In the three home matches held this year, fans only sat on the first floor stand there.
Suwon is set to roll up the massive cloth for the first time this year. The move comes in the wake of a "Super Match" with Seoul that will take place on Saturday. A source at Suwon said, "Designated seats were completely sold out already on Wednesday, three days before the event, and undesignated seats remain unsold. We will make 22,000 seats available by rolling up a portion of the cloth, and we could increase the seating capacity further depending on situation."
The "Super Match" between Suwon and Seoul, which is the most popular showdown in the K-league Classic, is a duel between archrivals, which was designated as the "one of the world's 20 derbies" by FIFA in 2009. Coaches Seo Jeong-won of Suwon and Choi Yong-soo of Seoul both said, "We cannot afford to lose the Super Match, even though we could lose other matches."
In the matches between the two teams held in the past, Suwon leads Seoul by recording 31 wins, 16 draws, and 25 losses overall. However, Seoul has been leading Suwon in the past two years by posting five wins, one draw and two losses. Seoul ended a streak of seven winless matches (two draws and five losses) on August 3, 2013 at the second Super Match of the year. Choi was deeply touched by the feat, and said, "The period of pain and suffering since 2011, when I assumed the coach, was too long and tough."
As of Friday, Suwon ranks fourth with 11 points (three wins, two draws and one loss) overall, and Seoul ranks eighth with seven points (two wins, one draw and three losses).
Seoul showed sluggish performance in the early days of the season but has switched the mood to post two wins and one draw in the most recent three matches, but it is pinning its hope on Park Chu-young's performance. Park was strong at Super Matches, scoring as many as five goals in nine matches when he was playing for Seoul during 2005 - 2008 seasons. However, having returned to the K-league Classic this season in seven years, Park has only scored one goal in three K-league Classic matches. A penalty kick was the only shooting and goal he has had. Suwon pins its hope on Yeom Ki-hoon's left foot. Yeom secured three offense points (three goals, three assists) in all of the matches held this year, and has been leading Suwon's five-match winning spree of late.
why@donga.com