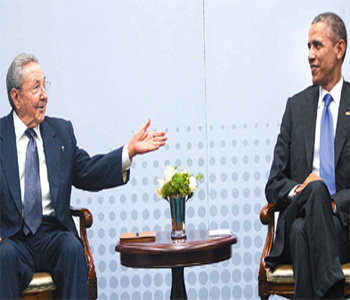 U.S. President Barack Obama and Cuban President Raul Castro Raúl Castro had a "history meeting" on Saturday (local time). After long-standing enmities for half a century, the mood for reconciliation between the two nations has finally been accelerated. The two leaders had a summit meeting in the Republic of Panama and discussed ways to normalize diplomatic relations. This was the first face-to-face summit meeting between the two nations in 59 years after the one held in 1956 and in 54 years after 1961 when the two states severed the diplomatic ties.
Having attended the Organization of American States (OAS) summit held at the ATLAPA Convention Center in Panama City on April 10 where 35 state heads made speeches, the two leaders moved to a nearby meeting room and had a talk over major pending issues sitting side by side for about an hour, said foreign media.
At the summit meeting, president Obama clearly expressed his willingness that the normalization of the diplomatic relations with Cuba would be one of the major tasks during his presidential term. "The United States will not be imprisoned by the past. We`re looking to the future," said President Obama. Having praised Mr. Obama as "an honest person" in the previous speech, Mr. Castro expressed high hope in the meeting by saying that "We are willing to discuss everything with the U.S. We will make progress as President Obama expressed."
As the two nations had a first talk over important agreement after December 2014 when the two agreed on the normalization of diplomatic ties, it is expected that the high-ranking official meetings will also gain momentum for other discussions such as reopening of embassies in Washington and Havana.
Mr. Obama called his meeting with Mr. Castro "candid and fruitful. I'm cautiously optimistic." Previously, President Obama was expected to make a symbolic move such as removing Cuba from the United States' list of state sponsors of terrorism but delayed the decision by saying "I wanted to study it further."
kyle@donga.com