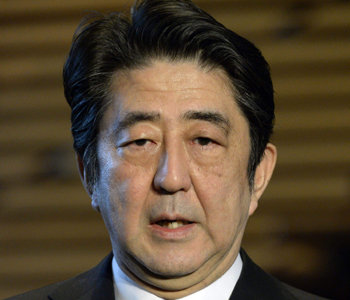 Controversy over illegal political funds that is rocking the Shinzo Abe administration of Japan is spreading to Prime Minister Shinzo Abe himself, sparking growing attention to after-effects of the situation.
According to Japanese media on Tuesday, the electoral district 4 chapter in Yamaguchi of the ruling Liberal Democratic Party, which is headed by Prime Minister Abe, has been found to have received a total of 1.84 million yen (15,360 U.S. dollars), including 240,000 yen (2,000 dollars) from Tozai Chemical Industries, 100,000 yen (840 dollars) from the advertising company Dentsu and 1.5 million yen (12,200 dollars) from the chemical company Ube Industry. The problem is that the companies paid the district chapter political funds in less than a year after being informed that they would receive government subsides.
Japan's political fund act prohibits a company subject to government subsidies from donating political funds for one year after the notification. If a politician receives money with knowledge about the subsidies, he could face up to three years in prison or up to 500,000 yen (4,170 dollars) in fines. However, if the politician was not aware that the company was to be paid subsidies, he or she is not punished.
Agriculture, Forestry and Fisheries Minister Yoshimasa Hayashi, and Economic Revival Minister Akira Amari both confessed on Tuesday that they took money from companies that had received government subsidies. Kasuya Okada, chairman of the main opposition Democratic Party of Japan, was also embroiled in controversy for the same charge.
At the Japanese Diet on the same day, Prime Minister Abe denied any illegal act, saying, "I was not aware that the companies were paid government subsidies. We will have to hold discussions with other parties on the regulation itself."
Under the Abe administration, Economy and Industry Minister Yuko Obuchi and Justice Minister Midori Matsushima, both female Cabinet members, resigned in succession in October last year, before Agriculture, Forestry and Fisheries Minister Goya Nishikawa stepped down on Feb. 23 due to political fund scandals.
bae2150@donga.com