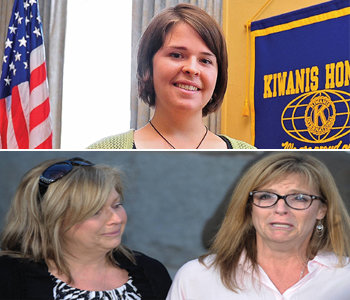 "Please do not forgive me (who insisted to come here). I don't deserve it…."
The last letter sent to her family by Kayla Mueller, the 26-year-old American woman who had been in captivity by ISIS for a year and a half and was confirmed dead on Tuesday, is touching the heart of people.
Her family received the letter from her cell mate and kept it with them, before publicizing it on Tuesday. The letter clearly reveals the 20-something woman's desperate efforts to comfort her family despite pressing fears she experienced as she was in captivity by the most brutal terrorist group.
Mueller, who went to Syria as an aid worker, was detained by ISIS in August 2013 while attempting to enter the Middle East country devastated by civil war to help out suffering civilians there. ISIS claimed on Friday last week that Mueller was crushed to death due to debris from buildings collapsed in Jordanian military's missile attacks, but the U.S. military refuted the claim, saying "It is not true."
In the letter, which is believed to have been written after November last year, Mueller said that she was completely unharmed and healthy, and gained weight. However, she immediately revealed her regret and fear.
"If you could say I have `suffered` at all throughout this whole experience it is only in knowing how much suffering I have put you all through; I will never ask you to forgive me as I do not deserve forgiveness. I remember mom always telling me that all in all in the end the only one you really have is God," she wrote.
After all, Mueller depended on God in the face of fear over death. "I have come to a place in experience where, in every sense of the word, I have surrendered myself to our creator b/c literally there was no else...I am not breaking down + I will not give in no matter how long it takes...Do not fear for me, continue to pray as will I + by God`s will we will be together soon."
After issuing a statement on the day, Mueller's parents said, "We are so proud of the person Kayla was and the work that she did while she was here with us."
U.S. President Barack Obama said, "No matter how long it takes, the United States will find and bring to justice the terrorists who are responsible for Kayla's captivity and death."