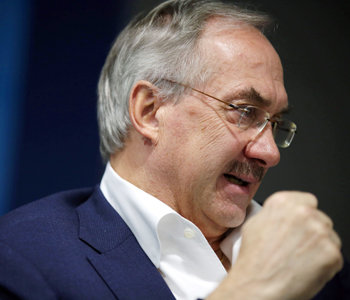 "I don't think I am a better coach than any other coaches just because Korea won the runner-up place at the AFC Asian Cup."
"I have passed age 60, and when others give me a nickname, I sometimes can feel too much burden," Coach Uli Stielike of the Korean national team told a press conference in Seoul on Wednesday. "I think that players should always be the heroes. The most desirable approach is for a team to display truly good soccer and performance in matches, which in turn help its players draw attention, before the question of who the coach of this team is asked."
"Lee is the kind of player who all different leaders would wish to have. Lee always understands very well what is expected on him and tries his best to display it at the stadium." the coach said while commenting on Lee Jeong-hyeop, who has achieved instant stardom. "Some people seek to call him 'military Cinderella' (Lee hails from the military athletic team), but rather than thinking to himself that 'I have become a star,' he needs to redouble efforts to become a star.'"
"Attending K-league matches, we must find a second Lee Jeong-hyeop. In other countries, five to six players from a single professional team join the national team. The situation is not the case in Korea. We have the difficulties in that whenever starting, we have to start from the square one," he said.
"Asian soccer has collectively improved to a higher level. Gone is the situation where Korea is at a higher level while the rest remain at lower levels. We should win games by banking on more robust playing capacity and scores," he talked on technical factors that Team Korea needs to improve. "What Korea is lacking is some technical aspects -- the preciseness of the last passes toward the goal to create threatening scenes. When kicking crosses from the sides, the accuracy of passes towards players rushing towards the goal is insufficient. The team also should improve preciseness with which a player in the midfield can kick 40-meter to 50-meter passes to either of the sides right on the foot of the receiving teammate."
"After watching players at the match against Australia, I found players were sufficiently disciplined, well trained, and committed, and hence I could give positive assessment on them in mental aspect."
"Since we had five consecutive wins at the Asian Cup, I anticipate that Korea's FIFA ranking will significantly advance. Over the long term, my goal is to have Korea ranks within the top 30." he said when asked what his goals are. "I hope that Korean coaches will have more international experiences. It is necessary to see more and farther. We need to pay attention to what world soccer is doing."