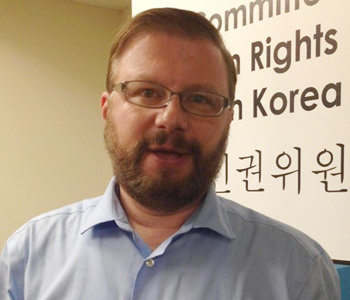 Greg Scarlatoiu, executive director of the Committee for Human Rights in North Korea (HRNK), on Wednesday defended Shin Dong-hyuk, a high-profile North Korean defector and a survivor from a notorious prison camp who has admitted that parts of his memoir are not true.
The committee director said that some inaccurate descriptions in the book does not change in the fact that Shin lived in a concentration camp for political prisoners, adding the defector played important roles in letting the world know about the dire human rights situation in North Korea.
However, Scarlatoiu expressed regret that the scandal happened at a time when the international community`s interest in the North`s human rights situation is peaking.
After Shin`s admission of false accounts written in the book "Escape from Camp 14," Pyongyang`s state-run Korean Central News Agency claimed that the United Nations` resolution of the North Korean human rights was invalid since it was based on a report of the Commission of Inquiry (COI) on human rights in the North containing Shin`s accounts.
In an interview at his office in Washington D.C., Scarlatoiu, who had been spearheading with Shin North Korean human rights activities in the U.S., said, "North Korea is the problem, not Shin." He urged the North to allow outsiders` access to and monitoring of prison camps if there are problems in North Korean defectors` accounts.
― Do you think this incident will have great repercussions?
"It does not change the fact Shin came from prisoner camps. He spent time in both Camp 14 (in Kaechon) and Camp 18 (in Pukchang). He was born in a prisoner camp and escaped it after informing his mother and brother to the authorities. That is the point."
― Would it undermine the credibility of the COI report?
"Shin`s accounts are just two paragraphs in the 400-page report. The COI held four public hearings in Seoul, Tokyo, London and Washington, and listened to public testimonies by 80 defectors. We also listened to accounts by 240 others behind closed doors. We referred to materials produced by various North Korea human rights groups. The report is not based solely on Shin`s story."
Michael Kirby, then the COI chairman, also told the Guardian, a British daily, on Wednesday that despite Shin`s recanting certain parts of his memoir, North Korea`s human rights abuse is evident.
― Where do you think Shin`s errors come from?
"It seems that he sustained serious trauma during the process of surviving the prison camp. It would be too much to expect him to remember everything in the chronological order. U.S. experts and media were confused about his admission of false accounts at first but are now becoming more understanding.
― Many are concerned that this incident could negatively affect North Korea human rights campaigns.
"Shin`s story was important and powerful in letting the world know about the North`s human rights situation. However, I am concerned if people treat him as a liar.
Meanwhile, Shin is known to be staying in South Korea with Blaine Harden, the author of Shin`s memoir and a former Washington Post reporter.