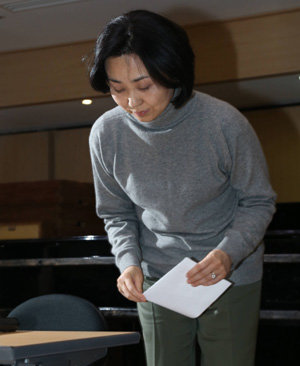 Park Hyun-jung, head of the Seoul Philharmonic Orchestra who had been under pressure to step down amid controversy over her alleged verbal abuse and sexual harassment, ended up resigning on Monday.
Park, 52, held an urgent press conference at the rehearsal room of the orchestra on Sejong-daero in Seoul on the day, and said, "I am going to resign from the head position of the Seoul Philharmonic Orchestra effective today."
"The reason I remained as president after conflict erupted was not because I had desire for the post, but because I wanted to address matters that were problematic in terms of content, format and procedures," Park said. "It is important to regain the impaired reputation of myself, but I could no longer withstand the situation in which the Seoul Philharmonic Orchestra funded with taxpayers' money was being abnormally operated."
"I erred in many things, and I sincerely apologize for these things. I have been hurt deeply due to distortions of facts, manipulation of public opinions like witch hunting, and a unilateral, unfair investigation," Park said. "I feel being unfair in many aspects, but I am trying to forget broken heart and leaving for now. The truth will come to light someday." After the press conference, Park left the site immediately without taking questions from reporters.
Earlier, the Seoul citizens' human rights protection office said on Tuesday last week that its own investigation into Park's alleged human rights violations at the request of the orchestra's staff found her use of abusive languages and sexual harassment to be true, and recommended the Seoul mayor to take disciplinary action against her. As a result, the orchestra's board of trustees was to adopt and review a bill on Park's dismissal on Tuesday.