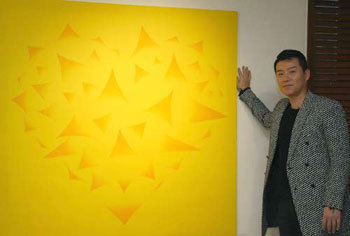 "If a popular actor releases a music album, singers would not necessarily welcome. Because I am a singer, I would have fairly significant positive effect for holding an exhibition of paintings. Hence, I should accept some negative views on my painting exhibition."
Singe Lee Hyeon-woo (real name Lee Sang-won) will hold his first private painting exhibition at Jin Gallery in Seoul's Jongno district through January 17. The entire collection of 17 pieces is acrylic paintings that describe hearts with thorns. They are the outcome of his follow-on work on his study sketches on the theme printed on the back of his 10th album seven years ago. The 48-year-old singer said, "They are images from experience in human relations, in which people try to cover their heart with thorns to protect themselves from pain, but end up breaking the heart of others."
"The image of my character as a taciturn figure was already fixed when I was a young boy. My family was not in the kind of mood that allowed me to freely express what I wanted to say. I heard that I would only spend time painting whenever I had time, even before learning how to speak. As I became an entertainer unexpectedly and gained experience that I had not been prepared for, I gradually put on the armor of thorns on my heart. Some scars from injury turned into thorns as well. As I got older, I found that however many thorns I put on, they turned out to be 'heart' after all."
As he moved his residence to the Sangsu Station area in Mapo district last year, he also moved his workroom that was outside his residence to his home. It helped prevent his workroom from turning into a hideout of his friends, but he also liked the opportunity to show him engaged in painting work wearing pajamas, to his sons, aged six and four, respectively. It was none other than his wife that encouraged him to hold the exhibition this time.
"When drawing, the painter will inevitably come to reveal what he or she has in mind. I think this itself is a significant act of healing. My wife knew that. I am cautious to say 'I am happy because I am married' these days, because others will easily criticize me to be cheesy, but I think a man becomes a decent person only after getting married."