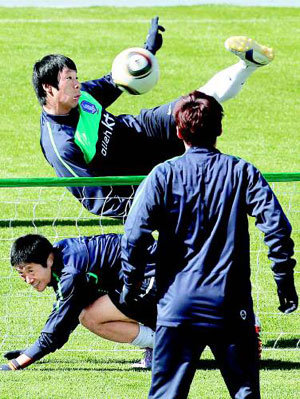 Three factors could determine the World Cup fate of the national soccer team in its final Group B match against Nigeria Tuesday at Moses Mabhida Stadium in Durban, South Africa.
With one win and one loss, the Taegeuk Warriors can advance to the second round with a win over the Africans and if Argentina does not lose to Greece. A loss to Nigeria will mean elimination and a draw will tie South Korea's fate to the result of the Argentina-Greece game.
○ Strong stamina
Considering its first two Group B matches, South Korea is expected to overwhelm Nigeria in stamina. The South Koreans ran a combined 109,017 meters in their 2-0 win over Greece June 12, with attacking midfielder Yeom Ki-hun (Suwon Samsung) leading the way with 11,419 meters.
In the 4-1 loss to Argentina Thursday, South Korean players ran 103,086 meters, led by team captain Park Ji-sung (Manchester United) with 10,788 meters.
In contrast, Nigeria ran 93,549 meters in its opening 1-0 loss to Argentina and 85,795 meters in its 2-1 defeat to Greece. Sani Kaita ran the most for Nigeria with 10,121 meters in the first game, while Lukman Haruna led in the second with 10,176 meters.
Though Kaita was ejected for a red card against Greece and will miss Tuesday's game, the Nigerians ran more than 10,000 meters less than the South Koreans. This suggests that South Korea ran tirelessly and were under heavier pressure.
○ Home field advantage for Nigeria
Durban is home to many ethnic Nigerians in South Africa. With a population of 3.5 million, the city is the third largest in the country. The lively trading and port city is also a resort town, and has a large population of Nigerian workers.
Areas surrounding the stadium are plagued with crime in Durban and are densely populated with blacks. In Tuesday`s game, the Taegeuk Warriors will have to deal with a hostile crowd that will overwhelmingly support Nigeria.
○ Higher confidence for S. Korea
South Korea lost to Argentina, 4-1, Thursday, but said it had little chance to win the game anyway and that the goal was to defeat Greece and Nigeria to advance to the second round.
The squad Sunday looked full of confidence as they warmed up at Rustenburg Olympia Park, and exercised to raise their physical condition.
In contrast, the Nigerians are in a gloomy mood. They might have the backing of Durban fans but are reeling from injuries to many players. With a second-round berth on the line, however, Nigeria is expected to go all out in the game since a win would mean an advance assuming Argentina beats Greece.
○ Overcome late World Cup slump
Korea has one draw and four losses in its final matches in five of the seven World Cups it has played in. In the 1954 tournament in Switzerland, it had no third group match and in the 2002 edition, it beat Portugal, 1-0.
Only when the Taegeuk Warriors overcome this jinx can they advance to the World Cup's second round for the first time on foreign soil. The team moved to Durban Sunday and began final preparation for the big match.
yjongk@donga.com