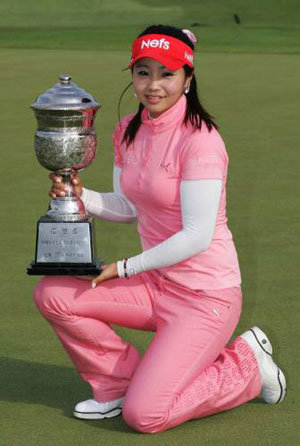 Yang Soo-jin, 19, has won her first career title at a major tournament.
Yang shot a 72 par-even in the third round and 212-under four overall at the 2010 Taeyoung Cup Korean Women's Open that ended Sunday in Gyeongju, North Gyeongsang Province. She won a neck-and-neck race that required three playoffs versus amateur Lee Eun-joo, a 17-year-old high school student.
Yang turned pro last year after ranking first in the seed tournament of the Korean Ladies Professional Golf Association Tour, and was considered a promising rookie. She ranked second in the points standings for Rookie of the Year last year, however, conceding the award to Ahn Shin-ae. Yang rebounded Sunday, however, by receiving 130 million won (115,000 U.S. dollars) at the Gyeongju tournament, jumping from 22nd to the top of the money rankings.
Playing the 18th hole (par four) with a one-shot lead, Yang bogeyed with three putts and started a playoff with Lee. On the first and second holes of the playoff, which continued on the 18th, the two players both bogeyed and shot par to keep it close. In the third playoff, which continued on the 18th, Yang shot for par by banking on her flagship long shot. Lee bogeyed by sending her tee and second shots into the bunker in succession.
Yang began her golfing career as a fifth grader. She won fame as a high school freshman in 2007 after winning the country's top women's amateur golf championship.
She can shoot long shots that extend as far as 270 yards. A next-generation golfer, she is also conscientious of her appearance, wearing more than 20 kinds of earrings.
Lee sought to become the first amateur to win the Taeyoung Cup Korean Women's Open for the first time since Song Bo-bae in 2003. She brought her second shot to a meter from the hole, but barely managed a birdie in the first playoff.
Seo Hee-kyung, last year's winner, failed to advance to the third and final round.
kjs0123@donga.com