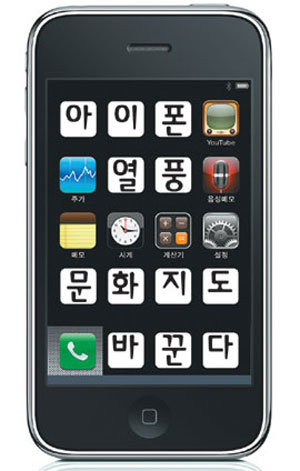 Kim Jong-rae, a high-ranking executive at a public relations company, has undergone a dramatic lifestyle change since buying an Apple iPhone early last month.
Before purchasing it, he spent a lot of time reading newspapers at his office. The iPhone, he said, has cut that time by allowing him to read dailies on it while commuting to and from work or in his free time.
The iPhone has also brought sweeping changes to his culture consumption pattern. On his way home, Kim listens to downloaded music from iTunes App Store, which sells content to iPhone users, or watches video clips uploaded on YouTube with his iPhone.
A few days ago, he said he even downloaded TVU software to watch live TV from overseas on the Internet. "In the past, I had to carry an MP3 or portable multimedia player to enjoy music or video clips. It was really inconvenient. But iPhone satisfies all kinds of needs, and I can enjoy music or video clips more frequently," he said.
Korea's smartphone market is expanding in no small part due to iPhone, of which around 200,000 units have been sold since its launch in December last year. This has led to a major shift in the domestic consumption pattern of cultural content.
More Koreans are using wireless Internet to access books, music or video clips anytime and anywhere. As changes in consumption patterns affect cultural content production and distribution, many businesses have swiftly responded.
Online book publisher Booxen Tuesday launched MobiBook (www.mobibook.co.kr), which enables the reading of e-books on smartphones. Moonye Publishing early last month released a comprehensive series on world literature through Ridibooks (ridibooks.com), an online seller of e-books, exclusively for iPhone users.
Music service provider Soribada has uploaded software to help iPhone users download songs from iTunes App Store. The number of downloads has reached several thousand per day.
Neowiz Bugs has also launched a similar service to allow movie downloading on the iPhone.
Along with changing paradigms in the production and consumption of cultural content, iPhone maker Apple will further raise its influence on the cultural market. The Wall Street Journal said the company will turn iTunes into an integrated media platform to provide Internet television service.
With the number of iTunes subscribers estimated at 100 million, Apple is expected to significantly change the market.
Kim Jung-tae, head of the IT Culture Center and author of "The Future Map of Business Created by the Mobile Revolution," said, "Competition in the cultural content market as spurred by smartphones will intensify this year."
He predicted that the growth of the e-book market will spawn authors who write novels exclusively for mobile phone users.
"Compared to readers of Internet novels, those who read them on their mobile phones can respond more swiftly. This will encourage more people to write mobile phone novels and authors to write such novels faster," he said.
The music sector will experience a similar development. "In the U.S., more people have become singers by uploading their songs on iTunes instead of visiting music companies. As the open market grows in the sector, more content will be directly delivered from creators to consumers, which in turn will change the method of content distribution," Kim Jung-tae said.
The head of a publishing company said he purchased an iPhone immediately after its release. Though he said he adores it, he expressed fears over the emergence of smartphones.
"If publishers fail to satisfy reader demand for digital service, they will take a backseat to non-publishers and fall behind. A new type of war has begun. It can be a threat but also an opportunity," he said.
gold@donga.com