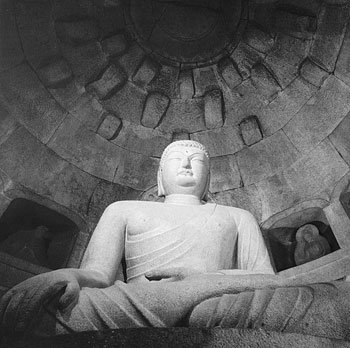 In April 1909, the vice governor of the Japanese colonial government in Korea, Sone Araske, and his delegates had a photo taken sitting on the knee of a Buddha statue at the Seokguram Grotto in Gyeongju, South Gyeongsang Province. This is the oldest known photo of Seokguram, which was designated World Cultural Heritage in 1995.
The Seokguram Grotto was constructed by architect Kim Dae-seong in the Shilla dynasty (A.D. 774). Since then, the grotto had been exposed to rain and wind without a ceiling. But it was on the brink of collapse as Japanese authorities started maintenance work in 1913. Japan tore down Seokguram to rebuild it to its original form.
Japan spread cement outside the grotto's roof and the walls of the main and front room to protect the statue from wind and rain in 1913. This, however, increased humidity in the main and front room, and ion-containing water came out of cement-corroded granite.
In 1961, cultural authorities covered a cement dome over Seokguram that controlled the humidity and temperature.
Experts are being cautious over whether to remove the cement. Kim Bong-geon, director of the National Research Institute for Cultural Heritage, said, "Removing cement seems technically difficult. If it keeps controlling humidity and temperature as it does now, there will be no big problem in preserving Seokguram."
Seong Nak-ju, who heads the Institute of the Beauty of Seokguram, had a different opinion. "The granite in the main room and cement are not completely attached to each other. If removal with the latest technology is possible, we should consider removing it immediately."
Lee Kang-geun, a cultural heritage professor at Gyeongju University, said, "We need an official body to discuss the removal."
The glass door in front of the front room is also raising a dispute. Do Jin-yeong, cultural heritage professor at Gyeongju University, said, "Foreign matter carried by visitors or CO2 emissions from tourists damage granite. They should remove the glass door for ventilation and find other ways to control visitors."
Moon Myeong-dae, the head of Korea Art History Institute, proposed a mock Seokguram as an alternative. "We need to make a mock Seokguram to satisfy the public and help the preservation of Seokguram at the same time."
Another scholar blamed the wooden temple in front of the front room of Seokguram built in 1961.
Kim Ri-na, honorary professor at Hongik University in Seoul, said," The wooden temple also prohibits ventilation of Seokguram. They must find an alternative where monks can pray and preserve the front room at the same time."
The Central Buddhist Museum of Jogye Temple in Seoul opened an exhibition yesterday with 260 pictures on Seokguram under the title, "The Light of Seokguram's 100 Years." The exhibition will run through January next year.
bluedot@donga.com