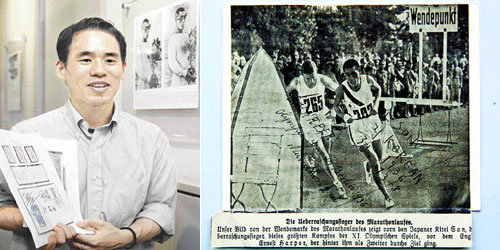 A stamp collector has released a postcard with autographs of the late Son Ki-jung, Korean marathoner who won the gold medal in the marathon at the 1936 Berlin Summer Olympics, and runner-up Ernest Harper of Britain.
Oh Hwa-seok, 33, said yesterday that Son autographed the postcard in Korean script in identifying himself as a Korean, breaking the law set by Korea's Japanese colonial government. He joined the race as Kitei Son, the Japanese pronunciation of his Korean name, and wearing the Japanese flag on his uniform.
Yesterday marked the 73rd anniversary of Son's Olympic victory and the 17th of Hwang Young-jo's winning of the marathon at the 1992 Barcelona Olympics.
On the back of the postcard was a photo cut from a German newspaper showing Son and Harper at the turning point. Above the photo was Son's autograph in Korean and "SON KOREAN 1936 13-8 [sic]," indicating he wrote it Aug. 13, 1936, four days after his victory. Harper wrote, "E. HAPER olympic games Berlin marathon 2nd [sic]."
Another autograph by Harper was on the front of the postcard, which showed the Olympic stadium. The postmark imprinted by the Berlin post office was dated Aug. 8 and shows a Nazi symbol.
Oh said, "Son did not wear a training uniform with the Japanese flag when he practiced at the Olympic athletes' village. He also wore no clothes with the Japanese flag. Among the many photos of Son taken in the Olympics, the only ones showing him wearing a uniform with the Japanese flag were taken on the day of the race. He also wrote his autograph in Korean on the book where Olympic gold medalists left their signatures."
Marathoners at the Berlin Olympics started at Berlin Olympic Stadium at 3:02 p.m. Aug. 9, 1936. Taking the lead after 31 kilometers, Son won the race with a then Olympic record of 2:29:19, followed by Harper and fellow Korean Nam Sung-ryong.
Before his death, Son used to say, "People without a country are like dogs. I would've never run in Berlin had I know that the Japanese flag would go up and the Japanese national anthem would be played."
Collector Oh is a sports fan who was a volunteer interpreter for the Korean national team at the 2004 Athens Olympics. He owns nearly all Olympic stamps, including some 400 from the 1936 Berlin Olympiad.
Oh is studying for a master's at the College of Law of Seoul National University and has a deep interest in international sports arbitration. He plans to study in Greece soon under the sponsorship of the Greek government.
mars@donga.com