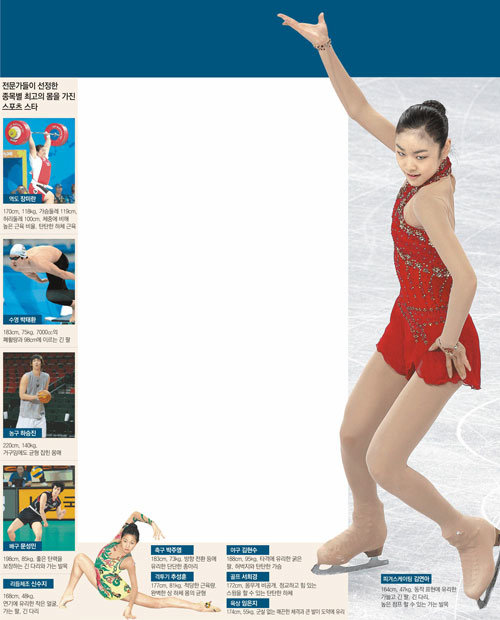 with a friendly look, wobbly flesh, and a slight pot belly, Fedor Emelianenko looks anything but exceptional. Nicknamed "a fighter created by God," however, he is the undisputed heavyweight champion of mixed martial arts.
His body is considered the most optimal for a combat sport according to experts.
Lee Seong-ho, editor-in-chief of the monthly MFight, described the Russian fighter as having soft muscles on top of hard ones. "The reason why he`s so flexible is due to his soft muscles, which work as armor," Lee said.
The body is a professional athlete`s life, the medal he or she gains through sweat and tears and an object of admiration for ordinary people.
○ Beauty standards differ by sports
The physique of Korean female weightlifter Jang Mi-ran, 26, is world-class. Last year, the New York Times picked her as one of the top five athletes with the most beautiful body.
She has a higher percentage of muscle than her competitors. Though she weighs 117 kilograms, less than 30 percent of her body is fat.
Jang has excellent muscles that can exert power in an instant. People call her body "customized for weightlifting."
World figure skating champion Kim Yu-na, 19, also has a body fit for her sport.
Lee Ji-hee, vice chairwoman of the Korea Skating Union and an international judge, said Kim has the "ultimate" body for figure skating: a small face, a properly thin body, and long arms and legs.
"With her ability to express her physique beautifully, she is matchless," said Lee Ji-hee, vice chairman of the Korea Skating Union and an international judge.
In ball sports, taller players are considered ideal. Ha Seung-jin, 24, is said to have a "once-in-a-century" body. Standing 220 centimeters tall (7-feet-four), he has found a balance between his upper and lower body.
In volleyball, Moon Sung-min, 23, is shorter than Ha but boasts a rubber ball-like bounce. His leaping ability coming from his long legs and thin ankles has made him a world star.
Among soccer players, Park Chu-young, 24, is considered to have the "most ideal" body with reactionary force and speed.
Long legs are not always welcome in sports. In wrestling, ssireum (traditional Korean wrestling) and golf, shorter players enjoy advantages, just as baseball pitchers.
Kim Young-soo, a senior researcher at the Korea Institute of Sport Science, said, "Shorter legs mean a lower center of gravity, enabling players to have a more stable balance."
○ The body as science
Are successful bodies born? Not any longer. Professional golfer Shin Ji-yai, 21, has shaped her body through scientific and systematic training programs.
The muscular strength in her lower limbs is measured at 139 kilograms, far higher than the average of 106 kilograms among her peers.
She also obtained a flexible waist and sturdy thighs through training. Her personal trainer said that while golfers in the past blindly developed their muscles, the trend now is to manage every delicate piece in a systematic way.
Even in athletics, systematic body management is crucial. Lee Jin-taek, a former pole vault champion, said, "You cannot expect to break records without systematic body management. The trend is to build a custom-made body for each event."
Seong Bong-joo, a researcher at the sports institute, said an active movement in the sports community seeks to learn about sports science more accurately. "These days, body is science," he said.
niceshin@donga.com hanwshin@donga.com