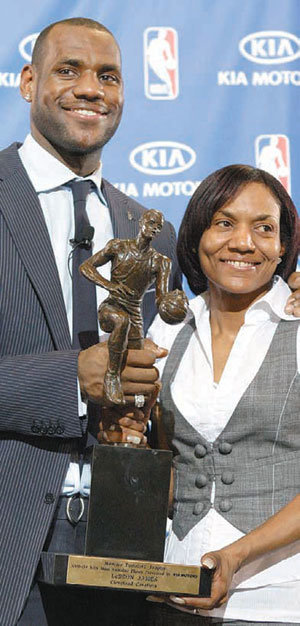 NBA superstar LeBron James yesterday claimed his first league Most Valuable Player award in the neighborhood where his single mother struggled to raise him alone.
Born Dec. 30, 1984, to 16-year-old single mother Gloria James, LeBron and his mother were so poor that she struggled to pay rent in the slums of Akron, Ohio.
In his youth, he would often hear police sirens and gunshots in his neighborhood. He also had little interest in school, as he usually hung out at shopping centers or played computer games at home. He also skipped school 82 out of 160 days per year.
Yesterday, however, the Cleveland Cavaliers superstar returned to the street where he spent his dark years in a Ferrari costing 225,000 U.S. dollars. He revisited his neighborhood to receive his first MVP trophy in a triumphant return.
James beat out last year's MVP Kobe Bryant (Los Angeles Lakers) for this year`s honor. James was drafted first overall in the 2003 NBA Draft, and finally won the award in his sixth season.
James is also the second-youngest MVP at age 24 years and 106 days, trailing Moses Malone, who won the award in 1979 at 24 years and 16 days.
James received the trophy with his mother at his high school's gym. "I`m 24 years old. To be up here and win this MVP award, I never thought it would happen this fast," he said.
In the regular season, "King James" averaged 28.4 points, 7.6 rebounds and 7.2 assists per game, becoming the first Cavalier to win the award. His team also finished with the league`s best record at 66-16.
Analysts say James has come closer to his icon Michael Jordan in both offense and defense given James' second-place finish in the voting for Defensive Player of the Year.
Unlike other MVPs who accepted the award mostly at the home courts of their pro teams, James wanted to receive the prize at Akron St. Vincent-St. Mary High School, his alma mater. He also donated a sports utility vehicle donated by Kia Motors to an Akron charity.
The next challenge for James is an NBA title. He will lead the Cavs against the Atlanta Hawks in the semifinals of the Eastern Conference today.
kjs0123@donga.com