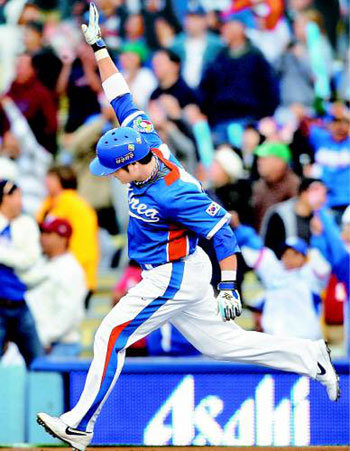 One more win will give Korea world baseball supremacy.
The national team clobbered Venezuela 10-2 in the World Baseball Classic semifinals at Dodgers Stadium in Los Angeles yesterday to advance to the final.
Starting pitcher Yoon Suk-min gave up just two runs on seven hits over six and a third innings against Venezuela, which boasted powerful batters from the U.S. Major League.
Choo Shin-soo (Cleveland Indians) hit a three-run homer in the first inning and Kim Tae-kyun added a two-run shot in the second as Korea battered Venezuela for 10 hits.
In the first WBC in 2006, Korea advanced to the semifinal with six wins and no losses after defeating Japan and the United States in succession. Korea, however, lost in the semifinals to Japan, a team it had defeated twice in that tournament.
Venezuela is a baseball powerhouse that has sent more than 200 players to the U.S. majors. Ten players who started against Korea yesterday play for Major League teams.
The combined annual salary of Venezuelan players in the U.S. league is 81.3 million U.S. dollars, or 40 times that of their Korean counterparts (1.9 million dollars).
Korea manager Kim In-shik had even called the Venezuelan squad a "semi-Major League All-Star team."
Korea showed baseball is not decided by one or two star players or high salaries but by sacrifice, cooperation and trust.
Korea will play the winner of Monday's U.S.-Japan semifinal at 10 a.m. Tuesday. Like the semifinals, baseball fans in Seoul can watch the final free via giant screens at Seoul's Jamsil Baseball Stadium, Incheon's Munhak Baseball Stadium, or Daejeon's Hanbat Baseball Stadium.
Fans will be allowed into Jamsil from 8 a.m. Tuesday and Munhak and Hanbat will open their doors at 9 a.m. and 9:30 a.m. respectively.
why@donga.com