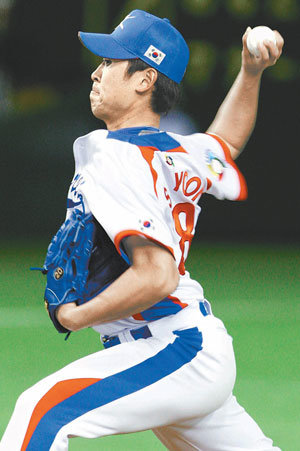 Korea lost to Japan 6-2 yesterday in the World Baseball Classic in a battle for the Pool 1 title, and will face Venezuela in the semifinals Saturday evening in Los Angeles.
Venezuela is a team largely unfamiliar to Korea.
Korea beat the Latin American country 9-2 in the 2002 Intercontinental Cup and 4-1 in the 2007 World Cup. The then Korean team, however, comprised minor league players and Venezuela fielded amateurs.
Saturday's semifinal will be the first time for professional players from the two countries to face off.
Venezuela claimed Pool C in the early qualifiers, beating the Netherlands, Puerto Rico and the United States in succession. Its sole loss in this year's tournament was 15-6 to the United States.
Above all, Venezuela has good batters. The team's batting average of .309 is the highest among the final four teams in the tournament. Venezuela has also hit 12 homers in the tournament, tops among the four.
Venezuela is also better than Korea in long-ball hitting percentage .569 versus .407. Korea has hit .251 and eight homers in its seven games in the tournament.
Korea manager Kim In-shik (Hanwha Eagles) said, "Though Korea has never played Venezuela, I learned of many Venezuelan players through TV," citing Miguel Cabrera and Carlos Guillen of the Detroit Tigers of the U.S. Major League.
In the tournament, Cabrera has hit .321 with two homers and four RBIs. Guillen also has two homers and four RBIs.
Venezuela also has other powerful batters including Jose Lopez of the Seattle Mariners (.500, two homers and four RBIs), Endy Chavez of the New York Mets (.368 and two RBIs), and Melvin Mora of the Baltimore Orioles (.273, one homer and seven RBIs).
Its fine pitching staff includes Felix Hernandez of Seattle, who has two wins in the tournament, and reliever Francisco Rodriguez of New York, who has three saves. Rodriguez set a Major League record with 62 saves last season.
For Korea, right-hander Yoon Suk-min (Kia Tigers) will start on the mound in an apparent bid to counter Venezuela's powerful right-handed batters. Yoon has played in three games in this year's tournament, going 1-0 with no runs given up and nine strikeouts.
Baseball fans in Seoul can watch the semifinal on large screens at Jamsil Baseball Stadium Sunday morning Korean Standard Time.
Up to 30,000 people will be allowed into the stadium on a first-come, first-serve basis from 8 a.m. Cheerleaders will also perform there.
why@donga.com