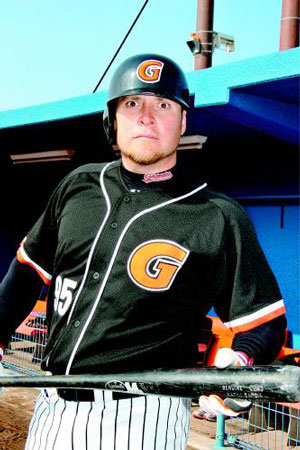 "I miss my Busan fans!"
Former Major League Baseball player Karim Garcia, who re-signed with the Lotte Busan Giants of the Korea Baseball Organization this season, has expressed his great affection for Korea's second-largest city. He is training in Phoenix after participating in the Mexican Winter League.
In an e-mail interview with The Dong-A Ilbo yesterday, he expressed his wishes to join the Giants, who are training in Saipan.
He will play for Mexico in the World Baseball Classic in March. The team is undergoing training in Mexico under manager and former player Vinny Castilla.
Garcia helped the Giants reach the postseason for the first time in eight years last season. He batted .283 with 30 homers and a league-leading 111 RBIs.
His passion for the game and showmanship attracted a huge fan base, as they cheered and applauded his performances and gentle manner. He often breaks his bat out of anger but never declines a request for an autograph.
Lotte fans in Busan quickly made Garcia one of the most popular foreign players in the Korean league. When he appears at the stadium, fans sing a revised climax to Handel's Messiah.
He said, "I still vividly remember how enthusiastically they cheered for me. Busan fans are the best fans in the world."
His aim for this season is to lead Lotte to the Korean Series.
On his personal goals, he said, "I have no specific ambition. But I want to have one more hit, homer and RBI each this season than I did last season."
"Though I couldn't join the training with Giants this time, it will pose no problem in my physical capability."
Lotte manager Jerry Royster will reshuffle his lineup by placing Lee Dae-ho as the designated hitter followed by Garcia and Hong Seong-heun.
"I don't worry about Garcia though he failed to participate in spring training," said Royster, showing his great confidence in him. He said Garcia will soon catch up as he is joining the Mexican team's training after playing in Mexico last season.
beetlez@donga.com