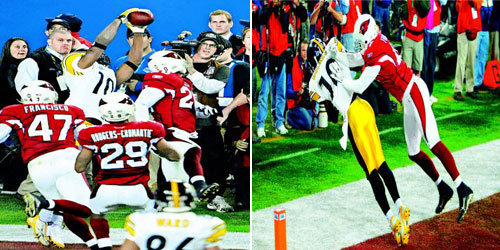 A 30-second commercial aired during Super Bowl 43 cost a record three million dollars, but that was not the only record broken in the game.
The Pittsburgh Steelers led 20-7 through the third quarter, then allowed 16 consecutive points to trail 23-20.
The Steelers, however, drove down the length of the field with 49 seconds left.
The ball was on the Arizona Cardinals` six-yard line.
Steelers quarterback Ben Roethlisberger attempted a quick pass to wide receiver Santonio Holmes, but the pass was incomplete.
Roethlisberger looked to Holmes again. The passer threw the ball toward the end of the Cardinals` end zone. The ball seemed to slightly pass by a Cardinal defender's hands and was apparently heading out of the end zone.
Then Holmes caught the ball while touching the tips of his toes inbounds with just 35 seconds left. He fell down with the ball in his arms for the winning score.
The final was a Pittsburgh victory, 27-23, the team`s second title in three years and a record sixth overall.
The Cardinals were playing in their first Super Bowl and fought their hardest, but eventually came up short.
wing@donga.com