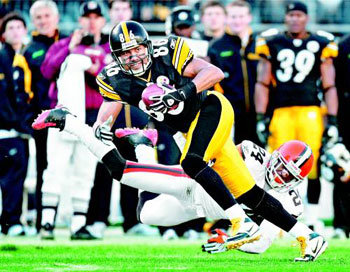 American football star Hines Ward has finished this season with his fifth 1,000 yard campaign and 800th career reception.
More importantly his team, the Pittsburgh Steelers, is headed for the postseason again.
The star wide receiver had six catches for 70 yards in the Steelers' 31-0 rout over the visiting Cleveland Browns in the regular season finale at Heinz Field.
Ward's receiving total for the season was 81 catches for 1,043 yards, his highest since 2004, and his career reception mark is now 800.
Ward had his first 1,000 yard season with 1,003 in 2001, and had a career high of 1,329 yards in 2002.
At just six feet (183 centimeters) tall, he is relatively short for a wide receiver and not agile either. He does, however, have an outstanding capacity to get open and tough yards.
Steelers Coach Mike Tomlin said after the game that the position of wide receiver is secondary to Ward, adding he is a player who knows how to play the game.
In 2006, Ward was named Most Valuable Player as Pittsburgh beat the Seattle Seahawks in the Super Bowl, 21-10, for the Steelers first title in 26 years.
Since the championship, however, Ward has faced a series of setbacks. He suffered a knee injury in 2006 and a broken nose last year, undergoing surgery for two consecutive years. Due to his injuries, he failed to surpass 1,000 yards receiving in the 2006 and 2007 seasons.
He signaled a triumphant comeback by scoring two touchdowns in the Steelers' first game of the season versus the Houston Texans.
wing@donga.com