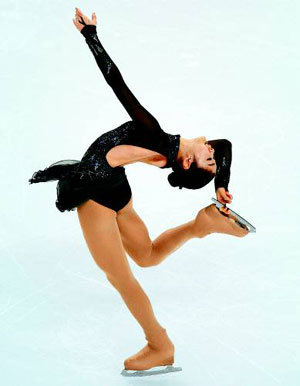 The highest scores in women's figure skating came in Tokyo last year, with the winner being Kim Yu-na, 18, of Korea.
Kim danced, jumped and spun wonderfully to the song "El Tango de Roxanne." Her facial expressions were impressive and passionate as she earned a score of 71.95, earning praise from many experts.
Kim is the only skater to earn a score of 70 in the women's single short program. In addition, scoring rules have gotten tougher since last season, making her mark difficult to break.
This year, however, the skating star could do just that. Kim earned 69.5 points yesterday at Skate America, the first event in the 2008-09 ISU Grand Prix of Figure Skating Series in Everett, Washington.
Her score was the second highest in Grand Prix history.
Defending world champion Miki Ando of Japan came in second with 57.8 points.
Kim skated to "Danse Macabre," highlighting dynamics and strong emotions. Her colorful makeup around her eyes combined with a colorful costume added to her stellar performance.
In performing a double axel as her final jump, Kim landed with the aid of her hand, a mistake which might have cost her a score of 70.
"I was nervous about my new program. I'm glad to be on top," she said.
kimsk@donga.com